Flipkart shuts mobile version of website, pushes apps to become mobile-first platform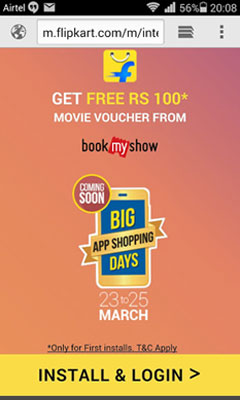 India's largest e-commerce venture Flipkart has shut its mobile version of its website with users now being redirected to apps stores of iOS and Google Play for downloading the mobile apps.
The news was first reported by Mint, which added, citing unnamed sources, that Flipkart may also shut its web version in the future.
This would make it a mobile-only venture. However, this seems to be a long term possibility given that many users still use the web version of the e-tailer.
Moreover, mobile and wap versions of websites appear to have been already displaced by the adoption of mobile apps and shutting them down does not make for a big development, other than redeploying some resources managing it for other units.
An email query to the company for an official take didn't elicit an immediate response.
Earlier this month, Flipkart acquired mobile ad network AdIQuity Technologies Pvt Ltd, which owns and operates mobile advertising platform AdIQuity, as part of its push to build new revenue channels as also boost its mobile-first push.
Comment(s)