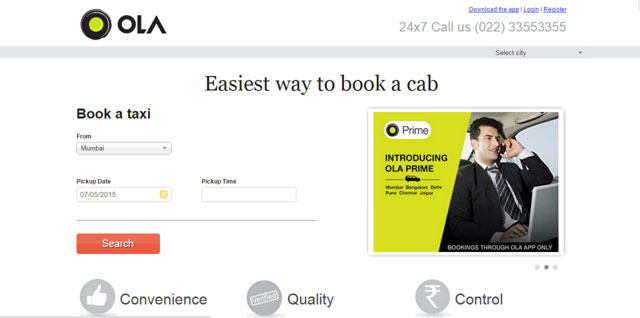 Fair trade watchdog Competition Commission of India (CCI) has issued a probe against Mumbai-based ANI Technologies Pvt Ltd, which runs online cab booking service Ola (formerly Olacabs), for allegedly exploiting its dominant market position in Bangalore.
The order was issued on a petition filed by Chennai-based Fast Track Call Cab Pvt Ltd and is related to the abuse of dominance position in radio taxi services market. It alleged that Ola's strategy of offering huge discounts to its customers and especially incentives to the independent cab drivers has squeezed the pool of drivers available to other service providers.
Fast Track Call Cab, that provides radio taxi services in the states of Tamil Nadu, Karnataka, Andhra Pradesh, Kerala, Maharashtra and West Bengal, also pointed out that Ola is using the huge funding raised by the firm, citing VCCircle as a source of information.
Indeed Ola recently completed a new round of funding where it raised $400 million just six months after it raised $210 million.
In an order dated April 24, 2015, CCI noted that Ola's pricing strategy amounts to abuse of dominant position within the meaning of Section 4 of the Act. The commission has called upon the director general (DG) to probe the matter and to complete it within a period of 60 days.
CCI took note of Ola's recent acquisition of TaxiForSure pursuant to which its market share in Bangalore has increased to 69 per cent. It said that prima facie it is of the opinion that Ola holds a dominant position in the market of radio taxi services in Bangalore.
The commission said it is not concerned with individual players getting excluded from the market on grounds of inefficiency, but the exclusion created because of abusive practices of a dominant entity in a relevant market is covered under the Act.
CCI observed from the material placed on record that Ola is spending more money on discounts and incentives (apart from the variable costs it may be incurring) on customers and drivers compared to the revenue it is earning.
It observed that, per trip, Ola is spending around Rs 574 while earning an average revenue of Rs 344 leading to a direct loss of Rs 230 per trip.
"While the propriety of these figures is a subject matter of investigation, prima facie, the Commission is of the view that, they indicate predatory pricing aimed to oust other players from the relevant market," according to CCI.
CCI recently quashed similar charges against five online retailers- Flipkart, Snapdeal, Amazon, Jabong and Myntra- as it did not find any prima facie evidence of violations.
---