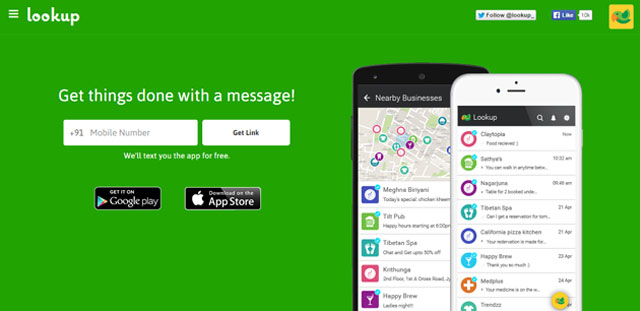 Bangalore-based Hatchery Software Pvt Ltd, which runs a messaging app to connect with local businesses under the brand Lookup, has raised an undisclosed amount in Series A round of funding from Twitter co-founder Biz Stone, according to a press release.
As part of the investment, Stone has joined Lookup as an advisor.
The startup will use the funding to expand its merchant base and to expand its footprint.
Launched last October, Lookup is a free messaging app that enables consumers to chat with local businesses and shops. It was developed by Deepak Ravindran, co-founder and former CEO of SMS-based search engine services startup Innoz Technologies.
"We plan to integrate all the offline businesses into the online world and connect them to their customers. The final goal is to make Lookup a global phenomenon and hope to ease the busy lives of the people," said Ravindran.
Lookup is a 'WhatsApp for businesses', where consumers get guaranteed answers from their local businesses within five minutes. As a consumer, one can make reservations at restaurants and pubs, and book appointments at spas, salons, clinics and hospitals. The app also gets him/her information about deals, product availability, prices and timings from offline stores. In addition, one can also share pictures with local stores to get information about products.
As for local businesses, Lookup helps them acquire and connect with customers over a chat, and get their shops verified.
"I'm very excited about working with such an inspiring entrepreneur, whom I share common ideologies with," said Stone.
Besides Twitter, Stone also co-founded Jelly Industries, where he serves as CEO. Graduating from Wellesley High School in Wellesley, Massachusetts, he is an angel investor and advisor in the startup community having backed companies in a diverse set of industries.
Lookup, which earlier was available only for Android users, recently launched its iOS app.
In January this year, it raised $120,000 in seed funding from Japanese mobile and online services firm DeNA Co. Ltd, and Teruhide Sato, founder of Beenos Inc., a global internet and e-commerce business incubator group. Prior to that, the venture had raised a total of $260,000 from Infosys co-founder Kris Gopalakrishnan and MKS Switzerland SA, a Geneva-based precious metals and financial services company. Both these were part of its seed funding round.
---