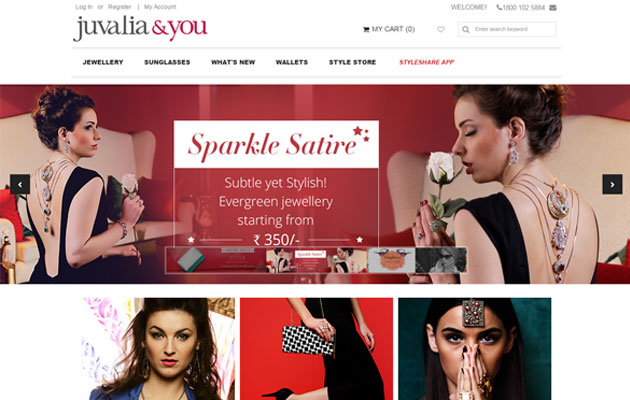 Juvalia & You, a private label e-commerce portal that sells fashion jewellery, claims that it processes between 80,000 and 100,000 orders per month.
The company, which was established in 2012, aims to end fiscal 2016 with a gross merchandise value (GMV) of Rs 100 crore ($16 million), CEO Chaitanya Aggarwal told Techcircle.
Aggarwal claims that the ticket size of each sale on the company's platform is in the range of Rs 600 and Rs 800.
Established in 2012, Juvalia was incubated by Springstar GmbH in collaboration with Harish Bahl of Smile Group, Oliver Jung of Airbnb and Klaus Hommels of Hommels Holding. It also operates in Germany, Brazil and Russia. The company designs products in-house and gives manufacturing contracts to third party units.
It works with a team of in-house external designers, including well-known names such as Ritika Sachdeva and Pooja Bhargava.
According to VCC Edge, the data research platform of VCCircle, Juvalia had sales of under $1 million in fiscal 2013 and fiscal 2014.
The company did not comment on the numbers.
Juvalia currently has about 2000 designs on offer. It works with over 80,000 stylists across 12 Indian states. These stylists organise shows and sell products during these shows. This method gets the company almost 80 per cent of its revenue while the remaining comes from its e-commerce platform as touch and feel is still a market driving force in the online jewellery category.
Juvalia has an inventory-led model and ships products to different states depending on the demand. It competes with the likes of Voylla, Crunchfashion Crunchy Fashion, Ornativa besides horizontal ecommerce giants such as Amazon and Flipkart who also deal with imitation jewellery.
Juvalia received its last round of funding few years ago. Without disclosing details, Aggarwal said it was Series A funding from existing investors such as Smile and RuNet. CLSA Asia Pacific Markets predicts that the e-commerce market for online jewellery would grow to $22 billion by 2018.
In 2014 alone Indians bought 662 metric tonnes of gold jewellery for $26.9 billion, the most since 1995, the World Gold Council said recently.
With an eye on the women's safety market, Juvalia will soon launch imitation jewellery which is embedded with a panic button. It will be priced between Rs 250 and Rs 5,000.
The jewellery, which will be paired with a smartphone, allows the user to press a SoS button when she feels unsafe. Among other things, the jewellery would then communicate the user's location to pre-set numbers, said Aggarwal.
"We will start with safety and health and then go on to build a notification system for lost phones. So, if the user goes 30 feet away from his/her phone, the device will give alerts," Aggarwal said. The company aims to launch this range of 'smart jewellery' by August-September.
Recently, IT firm Tech Mahindra too said it will would hand out digital key chains, lockets and hand-rings to over 27,000 women staffers in a move to address the growing concern of women safety in the country.
---