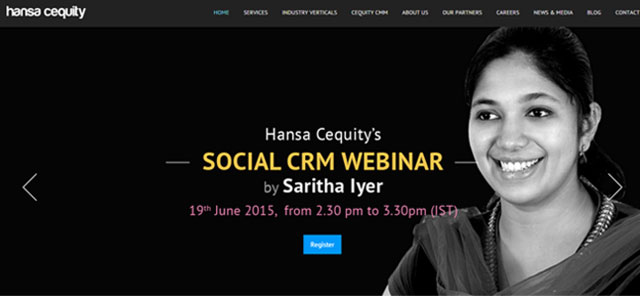 Mumbai-based Hansa Customer Equity Pvt Ltd, which provides consulting services in customer strategy, data management, analytic, campaign management, CRM and digital services, has raised Rs 30 crore ($4.7 million) from private equity firm ASK Pravi, according to a press release.
This is the first external funding round for the firm.
Started in 2008 by RK Swamy Hansa Group along with S Swaminathan (ex-iContract, which in turn is part of JWT, India) and Ajay Kelkar (former CMO of HDFC Bank), Hansa Cequity focuses on CRM, social, mobile, analytics and cloud (SMAC) services.
Currently, the company claims it has 85 million unique customer profiles and analyses 5 million customer conversations and has more than 750 automated campaigns running every week.
"Our platform-as-a-service (PaaS) strategy aims to bring in proprietary product APIs and solutions to enable customer-intelligence on demand and drive real-time marketing for our clients," said S Swaminathan, CEO Hansa Cequity.
"We are looking at global expansion into key markets where data-driven marketing is increasingly gaining attention of CMOs and CIOs. By 2017, CMOs are expected to invest more in marketing technology than CIOs. This will help us bring-in cross learnings and global best practices across developed and emerging markets," said Ajay Kelkar, COO Hansa Cequity.
ASK Pravi Capital Advisors, a joint venture between ASK Group and Pravi Capital, focuses on leisure, healthcare, wellness, food and beverages sectors and typically invests $10-15 million in its portfolio companies.
This is the fifth investment by ASK Pravi since 2013 and second in last one year, according to VCCEdge, the research platform of VCCircle. Last November, the firm invested Rs 18 crore in Spalon India Pvt Ltd. Its other investments were in companies like Gateforum Educational Services Pvt Ltd, Indian Clothing League Pvt Ltd and Incor Hospitals Pvt Ltd.
---