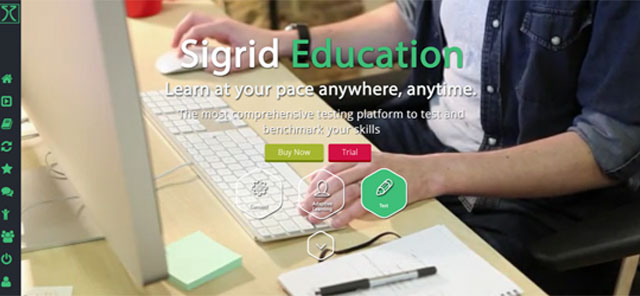 Noida-based e-learning startup Sigrid Education Pvt Ltd has raised under $1 million from early stage investment firm Oliphans Capital, as per a press statement.
Founded in late 2012 by three IIT BHU grads Ajit Maheshwari, Atul Kasaundhan and Aakash Aggarwal, Sigrid partners with educational institutes and teachers to bring their teaching pedagogy and academic expertise online, allowing them to reach out to students across the country.
It aims to create and introduce courses in the 50 most prominent test-prep and K12 curriculum areas over the next six months. Courseware and teaching content is recorded using Sigrid's proprietary platform Sigrid Notes platform, and it provides a one-on-one teaching experience to the students.
Sigrid Notes has been designed to be compatible with all operating systems and browsers, and is low on bandwidth consumption. It also provides performance analysis and peer comparison.
Co-founder Maheshwari (CEO) had earlier floated an ed-tech startup before graduating from IIT BHU in 2009. Kasaundhan (CTO) has worked on various technologies including client applications in iOS and Android in Adobe. Aggarwal (COO) also worked with Maheshwari's student startup venture.
Sigrid Education's CEO and co-founder, Maheswari said, "The way people consume information has changed drastically in the past few years and the change can be seen in the education sector as well. We feel students are now looking for customised information and learning experience rather than a mass approach available at schools and colleges. Our platform aims to get the best out of students by providing them high quality content with the option to personalise the pace and time."
Anish Jhaveri, co-founder, Oliphans Capital, said: "Digital education, or online content is still in its nascent stages in India. However, with increasing emphasis on quality of content by students and also ease of availability we expect it to be the next big thing."
Sigrid is Oliphans' eighth investment after BVG India, DEN Networks, Ecom Express, LocalBanya.com, Grab.in, OnlineRTI.com and Prothom Industries.
Set up in 2012 by Jhaveri and Mohit Gulati, Oliphans provides equity and debt capital to early stage ventures (though it has some late stage investments to its portfolio like cable operator DEN Networks). Oliphans typically invests $0.5-3 million.
Prior to setting up Oliphans, Jhaveri was group CEO at broking firm Antique Finance that was later acquired by Fortune Financial. He has also worked with HSBC as director of Indian equity sales. Gulati was also with Antique Finance as a manager – equity sales and currently sits on the boards of Oliphans' portfolio companies.
Oliphans is positioned as a sector-agnostic firm but the team is focusing on manufacturing, education and disruptive firms in financial services domain.
It is now looking to invest up to $15 million (Rs 95 crore) across startups this year.
"We would be investing this across eight deals this year," Jhaveri told VCCircle.
---