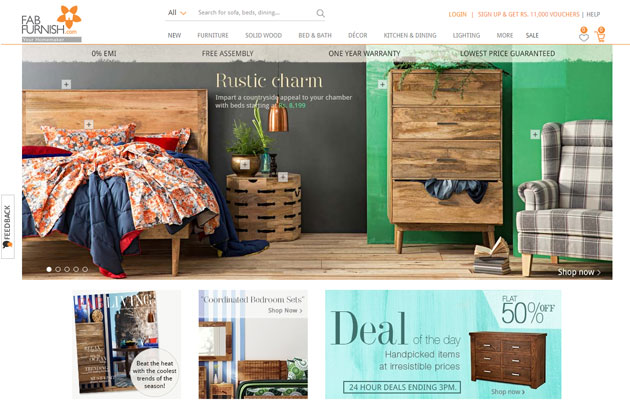 Rocket Internet-backed FabFurnish.com, run by Bluerock E-Services Pvt Ltd, has restructured its upper deck in a move that would see co-founders Vikram Chopra and Mehul Agrawal step down from daily responsibilities.
FabFurnish's senior directors Ashish Garg and Ankita Dabas have taken over the reins of the company, FabFurnish said in response to a Techcircle questionnaire.
However, Chopra and Agrawal will continue to be associated with FabFurnish as advisers, the company said.
While Garg is an IIT Delhi alumnus with experience in operations with global conglomerates such as Philips, Ankita is a private equity professional with entrepreneurial experience in the home and lifestyle industry.
The move is said to be part of a larger strategy by FabFurnish, which is backed by Sweden-based Investment AB Kinnevik and Berlin-based Rocket Internet AG, to reposition itself given the evolving market trends and customer preferences. Sources say that FabFurnish has been scaling down operations and closing warehouses in the last few months. However, this could not be independently verified.
The top-management restructuring will 'bring about a 360-degree reformation in the work culture and organisational composition,' the company claims.
FabFurnish was started by Chopra and Mehul along with Vaibhav Aggarwal in March 2012. Earlier this year, Vaibhav quit the company to launch branded budget hotel aggregator FabHotels (formerly Casa2Inns).
Started in 2007 with headquarters in Berlin, Rocket Internet builds consumer internet companies on its platform. It brings in industry executives, gives them stakes in its companies and designates them as CEO/COO. Thus, Fabfurnish may not have been the brainchild of Agrawal and Chopra but they were designated as co-founders.
FabFurnish has raised more than $30 million from Rocket Internet and Kinnevik. The company had recently announced that it will raise over $50 million from the existing investors in a year's time to further expand business.
FabFurnish offers branded products as well as private label products, and follows an inventory-cum-marketplace model.
According to market research firm TechNavio, the online home décor market in India is expected to grow at a CAGR of 50.42 per cent in revenue over the period 2014-2019. In the online space, FabFurnish competes with players like Pepperfry and Urban Ladder besides other horizontal e-commerce players such as Flipkart.com, Snapdeal.com and Amazon.in.
---