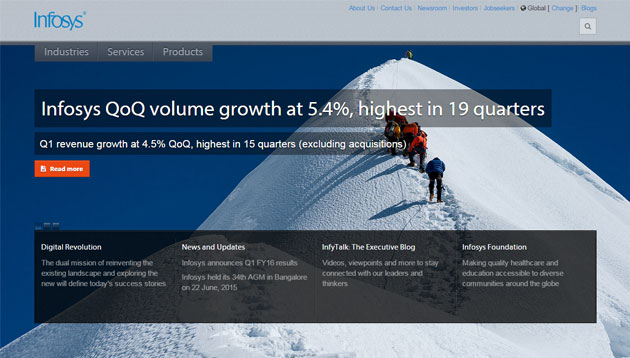 IT services giant Infosys has inked an agreement to buy a minority stake in ANSR Consulting India Pvt Ltd, a corporate consultancy firm focused on bringing multinationals to open their IT back-office operations in India that also runs Bangalore-headquartered startup accelerator Kyron.
Infosys will pick up around 5 per cent stake for $1.4 million (Rs 9 crore).
This marks its first investment in Indian company from its $250 million Innovate in India fund. This fund was carved out of a larger $500 million corpus earmarked to invest in global startups.
Infosys has already made a couple of overseas investments in US-based startups from the fund.
The company said the deal would enhance Infosys' reach in the fast-growing global in-house captives (GICs) market.
Ritika Suri, senior vice president and global head of corporate development at Infosys, said, "This investment reflects our commitment to new, innovative business models. In particular, models that are significant to the growth that India is experiencing in delivering unprecedented value to clients across the world, by matching the demand for next-generation scalable solutions, with India's supply of technology and business expertise."
Lalit Ahuja, founder and CEO, ANSR Consulting, said, "This investment, combined with Infosys' breadth of next-generation technology services, will enable us to bring more GICs into India and help global companies advance their transformation and innovation agenda, and deliver ground-breaking solutions."
The investment is expected to close before August 31, 2015, subject to customary closing conditions.
This comes as back-to-back funding for ANSR. The firm had raised raised $9 million (Rs 57.6 crore) from Accel Partners with participation of unnamed family offices and individual investors last month.
ANSR was launched by former CEO of Indian IT and back-office arm of global retailer Target, Lalit Ahuja, almost a decade ago.
In December 2012, it had launched Kyron as a global startup accelerator. The accelerator has already incubated over a dozen startups, including Shopping Wish, Lost Click Found, Buzzinga, Teritree, Book Pad Tech, My Window, Admirch Media Labs, Spatio Viz, Buzz Anytime, Link My Sport and Get Out, among others.
India continues to be one of the world's leading location for setting back-office for MNCs with more than 825 GICs operating across multiple locations currently, generating revenue of $15.5 billion and employing nearly 5.3 lakh people, according to a recent study by IT industry body NASSCOM.
---