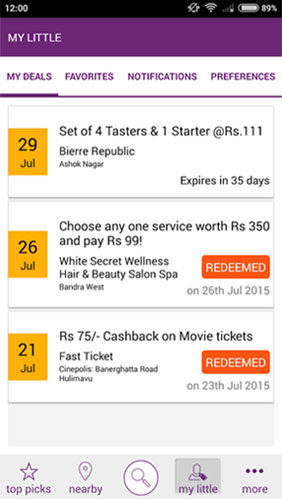 Founders of Bangalore-based private label fashion e-tailer Zovi have raised $50 million (Rs 318 crore) from a group of investors led by One97Communications, which runs mobile commerce venture Paytm, and an unnamed large investor for a separate startup focused on deals discovery.
SAIF Partners and Tiger Global Management, who are existing investors in Zovi, also participated, it said on Wednesday.
The new venture, an app named Little, is a mobile marketplace for deals related to offline merchants including restaurants, movies, hotels, salons, gyms, spas and others, the company said in a statement.
The money has been raised under a separate firm Little Internet Pvt Ltd, with Zovi founders Manish Chopra and Satish Mani as its promoters.
Even from a bustling startup ecosystem standpoint, a new venture raising $50 million marks for a record sum in India. It is not clear if the announced funding amount captures existing investors in Zovi rolling over their exposure in the fashion label to Little.
A company spokesperson said both Chopra and Mani will continue to run Zovi as a fashion brand with focus on men's fashion. Zovi is run under Robemall Apparels Pvt Ltd.
Little will utilise the money to further build the merchant ecosystem for the app, hire senior level talent and strengthen its technology capabilities.
"We believe that the deals space is broken in India with little focus on personalisation, timeliness and ease of redemption. With Little, we aim to change this by offering a real time, personalised and location-based marketplace which can offer contextual and purposeful deals as it learns one's usage habits, " Chopra, CEO & co-founder of Little said.
He added: "For merchants, Little will act as a personalised sales platform that they can use to gain intelligence about customers in the vicinity, ability to send timely notifications and offer relevant deals in a matter of seconds with just a few clicks."
The company claims the app has already enrolled over 5,000 merchants in 11 cities across India and expects to hit a GMV facilitation run rate of $170 million (over Rs 1,000 crore) by March 2016. It aims to build the infrastructure to offer 50,000+ live deals across 11 cities by that time. The company is already 400 people strong and expects to build a 1,000 strong team.
As part of the funding, Little will power the deals platform on Paytm.
"At Paytm, we are committed to build and partner every platform that will bring mobile commerce to masses in India. Little is one the key investments in that direction and will bring millions of hyper local deals to Paytm consumers right from their neighbourhood," Vijay Shekhar Sharma, CEO & founder of Paytm said.
Little's co-founder Mani, a former senior vice-president (technology) at Cleartrip, started Zovi in 2010 along with Kavindra Mishra and Sartaj Mehta. Started as an online menswear private label brand, the company added women's wear and accessories later on. In 2012, it appointed Microsoft Indonesia's chief marketing and operations officer, Manish Chopra as its new CEO.
Zovi raised $10 million in fresh funding from existing investors Tiger Global and SAIF Partners in 2014. The firm had earlier secured $10 million from the same investors.
It had initially bagged $5.5 million in a Series A round of funding in December 2010, led by SAIF Partners, with participation from MakeMyTrip's founder Deep Kalra. In July 2011, Zovi raised $10 million in fresh funding from Tiger Global and SAIF Partners and a year later acquired Inkfruit, another SAIF-backed firm.
In January 2013 it raised another $10 million from Tiger Global and SAIF Partners.
Meanwhile, Little is not the first venture linking users to offline deals through an online interface.
Times Group-promoted discount aggregator Coupondunia has started offering offline deals to consumers; Helion and Accel-backed MySmartPrice.com, a product discovery and online price comparison shopping platform, added an offline price comparison service for mobile stores early this year and the world's largest deals aggregator Groupon already specialises in offering deals from offline merchants to consumers.
Some other startups in the field have also bagged VC funding in the recent past. In fact one of them was backed by SAIF Partners itself.
Mumbai-based Niffler raised $1 million in a seed round of funding from SAIF Partners in March this year.
Early this month, Shopsity Tech Pvt Ltd, a company that provides information on fashion products being sold by physical stores in the users' vicinity through an app, raised an undisclosed amount in seed funding from Sandeep Aggarwal, founder and former CEO of ShopClues, and Teruhide Sato, founder of Netprice (now Beenos), the company said on Thursday. Shopsity was founded by Danish Ahmed, former CEO of Yebhi.com (that failed to raise fresh funding and became an aggregator for third party e-commerce sites), one month ago. Shopsity is now in talks to raise $8 million more in the next round of funding.
In an unusual deal, NASDAQ-listed deals & vouchers site Groupon Inc diluted stake in its Indian arm to Sequoia Capital for $20 million.
---