Subscription-based e-grocery startup RainCan raises seed funding from Ajeet Khurana, others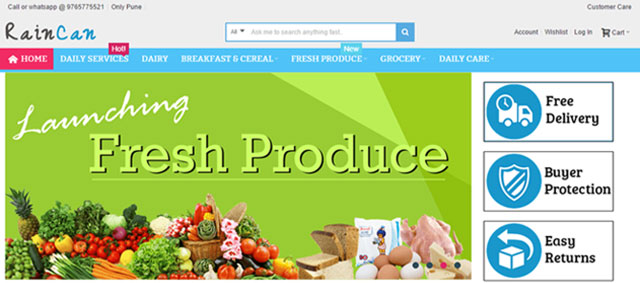 Pune-based Bloomskart Retail Pvt Ltd, the firm behind online grocery e-commerce startup RainCan, has raised about $100,000 (Rs 64 lakh) in seed funding from angel investor Ajeet Khurana and a number of other unnamed individuals.
The startup will use the funds to strengthen its customer base and improve supply chain infrastructure, Munendra Singh, founder of RainCan, told Techcircle.in.

He claimed the seed investment has already helped the firm reach 100 orders a day.
Founded earlier this year by IIT Bombay alumni Singh and Abhijeet Kumar, RainCan enrolls customers in a subscription model under which they are offered product categories such as dairy, bakery, perishables, staples and more on a daily basis.
Customers can modify, pause or stop the services though a phone call, chat or text message. "In addition to this, we also offer our customers top-up across 4,000 SKUs in categories like staples and daily care," Kumar said.

Kumar had worked earlier on startups like kisanbandhu and BITSATRACE. Before starting RainCan, he was working as forecasting and supply planning architect for a few FMCG companies. Singh was also involved in growing exotic vegetables and flowers (in Rajasthan) and selling to major wholesale markets across north India. He has also worked as part of the investments team at ICICI Prudential Life Insurance and Deutsche Bank in the past.
The firm offers to deliver products in three hours and delivery starts six in the morning. The startup doesn't keep any inventory, but has tied up with distributors across product categories from which it sources products.
Singh claimed the company has grown from 20 orders a day to 100 orders a day in a month's time. It currently operates only in Pune, focusing mainly in the PCMC area. RainCan targets to reach 500 orders a day by next month.

It also released an Android app, which has about 100 downloads so far.
"Three factors attracted me to RainCan. Firstly, the size of the opportunity. I love the daily needs business as it constitutes a significant chunk of one's grocery spend. In addition, it's largely recession proof. Secondly, I was impressed by the team for not just their background, but also the chemistry I established with the founders. Thirdly, I was pretty impressed by their technology solution," Khurana said.
The startup is currently in talks with a number of VCs and angel investors to raise around $1 million with which it plans to build a strong team, enhance its technology infrastructure for better customer experience, and better market its services to achieve transactions of 10,000 orders a day.

The grocery delivery industry in India is witnessing a lot of investor interest for both inventory-based models such as BigBasket and delivery models like Grofers, PepperTap, ZopNow and others. BigBasket recently expanded into the Delhi NCR market.
Major horizontal e-commerce players have also evinced interest in the Indian online grocery space with Amazon testing local deliveries with neighbourhood grocers as partners on its marketplace (starting with Bangalore).
In the most recent funding in this space, iOrderFresh, a mobile-first food and grocery retailer, secured an undisclosed amount in seed funding from Best Foodworks Pvt Ltd last week. Ahmedabad-based e-grocery startup Myonsto.com secured Rs 2 crore (about $315,000) in angel funding from Oswal Industries' director Jayant Bokadia last month.

Recently, Gurgaon based online grocery delivery store, Satvacart raised an undisclosed amount in seed funding from Palaash Ventures along with a few angel investors including a former managing director of a PE fund.
Talking about the competition in the market, Khurana said, "Being a horizontal grocery startup is no longer appealing as some players have been highly funded. This creates opportunities for some vertical players within the grocery space."
---