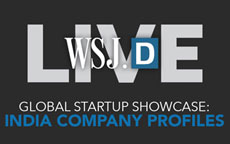 Starting today, we will profile the six Indian startups vying to secure a semi-finalist spot at The Wall Street Journal's WSJDLive conference in Laguna Beach, California.
In its second year, WSJDLive brings together an unmatched group of top CEOs, inspirational founders, game-changing pioneers, enterprising investors and luminaries, who will explore the most exciting technology opportunities from around the world.
Subscribers and readers of VCCircle.com and Techcircle.in will have exclusive, ringside view of the unfolding process, starting with in-depth profiles of the six Indian startups. To be one of the eight semi-finalists, these six startups will battle some 250 rivals from 26 countries, including the UK, France, Canada, Israel, Turkey, Singapore, South Africa, Palestinian Territories and Hong Kong.
The semi-finalists will have the opportunity to attend the three-day WSJDLive (October 19-21) and present their companies to an audience that will include Marc Benioff of Salesforce, Virginia Rometty of IBM, Bin Lin of Xiaomi, NSA Chief Admiral Michael Rogers, Tyra Banks of Fierce Capital, Kazuo Hirai of Sony, Elizabeth Holmes of Theranos, Stewart Butterfield of Slack, Robin Li of Baidu, Sergio Marchionne of Fiat Chrysler Automobiles N.V., Richard Plepler of HBO and investor Yuri Milner of DST Global.
Today, we profile Guiddoo.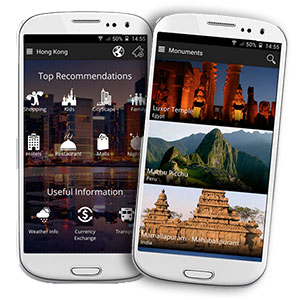 Nidhi Varma was ecstatic when her plane touched down at Paris' Charles De Gaulle airport after a 10-hour flight. She was close to realising her childhood dream of visiting the Eiffel Tower with her husband Vineet Budki. However, the initial euphoria soon turned into frustration.
The couple spent several hours waiting in line to take the elevator to the top of the tower. On a tight schedule, that meant the couple had to skip another key Paris attraction on their agenda for that day, the Louvre museum.
That's when they hit upon the idea of starting a collection of mobile apps that could help time-constrained travelers with a step-by-step audio and video guided tour of monuments, museums and other important landmarks.
In January 2013, some 14 months after their Paris epiphany, Nidhi and Budki launched Guiddoo World Travels Pvt Ltd in Mumbai.
Their endeavour is to create a smartphone-based alternative to bulky and static tour guides and travel books, said Budki. With one selling point for the global traveller: no live Internet connection needed to use the app's many features, after a one-time download. Guiddoo makes a dedicated app for every city that it covers while also devoting a few standalone apps to famous landmarks.
Guiddoo has a dedicated app for the Taj Mahal, the Statue of Liberty, the Colosseum in Rome, the Eiffel Tower, Angkor Wat, as well as modern tourist attractions, such as the Burj Khalifa towers in Dubai.
What makes Guiddoo tick?
Budki:
"Our flagship 'in-depth experiences' on the app. It ensures that the traveler gets to cover the sites in a city with no hassles. Our tour planners help make sure that every trip is fun-filled and memorable".
How hopeful are you of making it to the semi-finals of the WSJDLive Global Startup conference?
Budki:
"I believe we are the sole company in the travel "experience" category globally. That's our USP. The immensely favorable response that we have received gives me the confidence of winning. We've built a sustainable and scalable business model"
What do you hope to achieve if you become a semi-finalist and get to represent your company?
Budki:
"Being selected would help us get visibility on a global platform and showcase our product to a wider audience. It also gives us a chance to meet new investors, partners and users, and attain international credibility"
"Our competitors mostly direct users to Wikipedia pages for help regarding a destination. We believe in providing personalised and interactive content," says Budki.
The apps also allow users to take pictures and share them on social media. Guiddo's content is regularly updated through crowdsourcing and contributions from travel bloggers whose work is featured on the app by Guiddoo for free.
It also allows users to book tours and activities in and around historical places from within the app. Offering a free concierge service as well, the Guiddoo app wants to be a one-stop shop for everything a globetrotter needs. The concierge service lets users plan their trip, book hotel tickets, figure out transportation, and know about monument tours all from within the app, without involving multiple agencies at every step.
Guiddoo's apps have been downloaded some 100,000 times, said Budki. He declined to say how many users are using the app. Guiddoo has seen a 150 per cent rise in the number of downloads over the last six months, with around 30 per cent of downloads coming from users in India, followed by Cambodia, United States, Spain and Italy. In terms of traffic on Guiddoo's web portal, the US tops the list with 60,000 hits, followed by India, UK and Russia. Budki says a typical user spends 3.5-4 minutes per visit on the app.
"We get most of our users through social media. Our content team, with the help of bloggers, makes sure that we grab the attention of globetrotters," says Budki. The Guiddoo app is available for iOS and Android platforms.
Guiddoo competes with the likes of TripAdvisor, Triposo and apps from LonelyPlanet. And with Google Street View giving a 360-degree view of some of India's most famous monuments, such as Taj Mahal, Qutub Minar and Red Fort, there is competition for Guiddoo's audio-visual tours, though that Google feature requires a live Internet connection.
Guiddoo's business model revolves around revenue from selling audio-guides to the users, a premium feature inside the free app. The premium audio guides, which are priced from $1.99 per location to $4.99 per city, generate about 15 per cent of current revenue. The company also receives commissions of 5-8 per cent on sales achieved on the app for third-parties, such as tour operators and hotels. Guiddoo gets about 60 per cent of its revenue from such partnerships.
The startup also creates branded content, on a subscription basis, for travel companies and tourism boards, and showcases them on the app. Guiddoo says it has no plans to run conventional advertising in the app.
The company, which has a team size of 17, says it currently has an annual revenue run-rate of around Rs 20 lakhs (about $31,000.)
Guiddoo has partnered with MakeMyTrip.com, the large publicly traded Indian travel portal, to provide in-destination content for Dubai. It now wants to become the digital concierge provider for more online travel agencies, homestays and government tourism agencies. Guiddoo plans to launch its map-based tour and activity marketplace in 15 countries, across the Middle East and South East Asia, in the next few weeks, for both mobile and the web, says Budki. Guiddoo offers curated content for over 300 monuments, destinations and locations around the world, with high-quality audio-visual content and meta-search options. It plans to add an additional 300 monuments and tourist attractions.
A commerce graduate from the Narsee Monjee College of Commerce & Economics in Mumbai, Nidhi, 35 has spent a decade in the travel business, with a stint at Yemen Airlines. She is currently manages staffing and communications for Guiddoo. Budki, 34, is an MBA from Johnson Graduate School of Management at Cornell University in New York, and previously worked for Videocon d2h Online, a large direct broadcast satellite service in India.
Guiddoo began with Budki's own investment of nearly Rs 800,000. In June, the company raised an undisclosed amount in seed funding from Pawan Borle, senior vice-president at Fly Dubai; Abrar Ahmad, partner at TravelCapitalist Ventures; Nirmal Singh, part of Team Ducab; Vishal Shah, founder AcFin Consulting; Sanjay Shah and Ushik Gala, who are serial angel investors in India. Guiddoo says it is in the final stages of raising another round of funding from SAIF Partners and Helion Venture Partners among other investors. SAIF and Helion did not respond to a Techcircle.in request for confirmation.
Not everyone is so optimistic about Guiddoo's prospects. "Guiddoo is solving the travel problem in a smart way by exploring tourist spots and providing information. It is, however, not a scalable business as content is highly curated," said Sanjay Mehta, an early stage investor whose portfolio includes names such as Zippr Smart Address, AllizHealth, and Prettysecrets.com. "I would love to see technology automated solutions that create a guide for consumers based on their preferences using existing content from the internet. That would be highly scalable," he added. Mehta is not involved with Guiddoo but reviewed the product for Techcircle.
Guiddoo points out it is targeting a very large, global market. The UN's World Tourism Organization estimates that around one billion people travel internationally every year. Out of this, 52 per cent are leisure travelers and nearly 60 per cent of these leisure travelers use smart phones.
Says Budki: "It's a $27 billion market in the US alone. So the scalability of this business is immense."
(The parent of VCCircle Network, the publisher of this site, is owned by News Corp, which is also the parent of Dow Jones & Co, the publisher of The Wall Street Journal and WSJD Live events.)
---