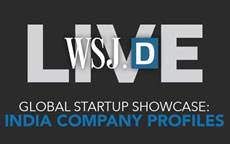 Today, we profile the fourth Indian startup vying to secure a semi-finalist spot at The Wall Street Journal's WSJDLive conference to be held on October 19-20 in Laguna Beach, California.
WSJDLive brings together an unmatched group of top CEOs, inspirational founders, game-changing pioneers, enterprising investors and luminaries, who will explore the most exciting technology opportunities from around the world.
The eight semi-finalists will have the opportunity to attend the three-day WSJDLive and present their companies to an audience that will include Marc Benioff of Salesforce, Virginia Rometty of IBM, Bin Lin of Xiaomi, NSA chief admiral Michael Rogers, Tyra Banks of Fierce Capital, Kazuo Hirai of Sony, Elizabeth Holmes of Theranos, Stewart Butterfield of Slack, Robin Li of Baidu, Sergio Marchionne of Fiat Chrysler Automobiles NV, Richard Plepler of HBO and investor Yuri Milner of DST Global.
To even get there, these eight would have battled some 250 other startups from 26 countries.
Subscribers and readers of VCCircle.com and Techcircle.in get an exclusive, ringside view of the unfolding process, starting with in-depth profiles of the Indian aspirants.
We started the series on August 24 with Guiddoo, a video-based app alternative to static tourist guides. On September 7, we published a piece on Parentune, a tech startup that aims to be the final word on everything related to parenting. Last week, we wrote about Cxex.org, a community-driven comparison platform for e-shoppers.
Today, we profile Stockal, a social media and sentiment-based search engine for stocks listed in the US.
Can individual stock market investors get a quick leg-up on Wall Street by studying social media chatter?
Sitashwa Srivastava, the 34-year-old co-founder of Stockal Software Pvt Ltd, believes so.
His Bangalore-based startup is launching a data crunching app that would sift through social media conversations, analyst reports, news clippings, blogs and discussion forums to provide investment signals for stocks listed in the US
Stockal, a social media and sentiment-based search engine, aims to provide "hedge fund-grade power" to individual investors and non-institutional traders.
Owing to regulatory restrictions, the Bangalore-based company, which caters to Wall Street investors from India, won't be able to extend its services for domestic equity markets. "SEBI does not allow social media analysis for stocks," Srivastava said.
In fact, the company is planning to incorporate a legal entity in the US too so that it can stay close to customers.
"Large institutional investors generally have access to market-moving information (even from social media), thereby limiting the gains individual investors and traders could make while often amplifying their losses. With Stockal, we want small-time investors/traders to also benefit from Big Data and social media analytics," said Srivastava.
The app, which will be launched at Las Vegas Traders Expo in October, will also feature community analysis of stocks through near-time analyst videos.
"Most stock analysis apps are built on top of structured data garnered from previous price movements. The explosion of social media, coupled with regulatory developments in the past few years, enables players like us to cull out a certain degree of intelligence from the plethora of unstructured data that's out there," Srivastava said.
In 2013, US Securities and Exchange Commission (SEC) passed a ruling which equated social media postings with news releases as long as companies told investors in advance about the social media platforms they intend to use. While social media analytics for brands has been in vogue for several years now, a similar service for equities has only started gaining traction in the last two years.
How does it work?
Stockal constantly monitors social chatter on publicly traded companies across platforms such as Twitter, StockTwits, Seeking Alpha and Facebook. While many social networks have data that can be used for insights, the strongest investment signals are derived from trader conversations and insider postings on StockTwits and Twitter, said Srivastava. Stockal also digs for actionable insights from livefyre, Disqus and other discussion forums.
Stockal's back-end is powered by a sentiment analysis algorithm that processes three million data points daily for over 6,000 stocks. A data point could either be a social media post or an analyst/news report. "We aggregate and curate to figure out which data are useless and noisy and what could be useful for an investor," Srivastava noted.
The quantum and nature of hourly conversations on social media enable Stockal to calculate what it terms as the 'social velocity' of a stock. If positive/negative chatter percolates about a particular stock on social media, its 'social velocity' would increase, thereby increasing the probability of price movements.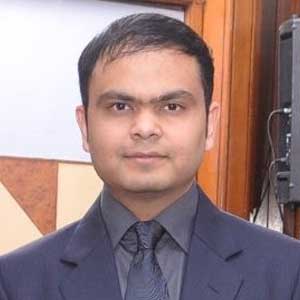 What makes Stockal tick?
At Stockal, we see an opportunity to create a significant impact on the financial well-being of our target users. Capital markets have played a major role in helping people meet their life goals—whatever they may be. Over time, a huge information asymmetry has seeped into the system as large institutional investors have benefited from market-moving information. With Stockal, we are hoping that small traders and investors will be better empowered and able to make better and timely decisions."
How hopeful are you of making it to the semi-finals of the WSJDLive Global Startup Showcase?
It is a competition and you always enter a competition with a lot of hope. That said, WSJDLive is a large platform; so we will be quite privileged if we make it. We can closely relate with WSJDLive as ours is a product focused on Wall Street."
What do you hope to achieve if you become a semi-finalist and get to represent your company?
Talking about Stockal at WSJDLive will be a great opportunity to accelerate our growth. We hope to engage with experts from the industry and the startup ecosystem. We are looking at this as a chance to propel the company with access to users and funding."
Assume that the average social velocity (based on what industry insiders, traders and analysts are posting on social media) of NASDAQ-listed Tesla Motors Inc is 37 per cent. On a particular day, if Tesla's social velocity shoots up significantly, Stockal users would be alerted on the probability of a swing in stock price.
"While Stockal would appraise investors of a probable change in price, we are not specifying the direction (price increase or decrease) yet as you need a licence for making buy/sell calls. For the time being, we will operate as an information services provider," Srivastava said.
Stockal would also flag users whenever an insider trade is reported. It would also offer trade alerts, fundamental indicators, persona-based guidance and investing directions.
Starting up
Investors generally advise startups to thoroughly understand their target audience before launching a new product or service. Srivastava and co-founder Vinay Bharathwaj, 33, found an innovative method of mapping their would-be clients.
Stockal's website went live in February 2015, four months before the legal entity Stockal Software Pvt Ltd was incorporated.
The company decided to make the website mimic a news and opinion portal for stock traders and named it Stockal Digest. "Under the garb of a media platform, we would write original trading-related content and curate content from other websites. This allowed us to interact with traders by taking interviews and understanding their needs," Srivastava said.
Soon, the Stockal team had enough insights on the mindset and lifestyle of traders.
"We told many of these traders/investors about our upcoming product and asked for feedback. The entire exercise helped us add more features to the platform than what was initially envisioned," he added.
Moreover, the strategy helped in getting a solid bunch of pilot customers for the app. Over 3,500 traders/investors have signed up already. Around 50 are currently testing the app.
The Jade Magnet connection
Both Srivastava and Bharathwaj have donned the entrepreneurial hat before. Prior to co-founding Stockal, Srivastava was co-founder and CEO of Jade Magnet Online Pvt Ltd, a managed crowd-sourcing platform for creating and marketing support services.
"We ran Jade Magnet for about five years. In the process we did a lot of analytics work in the realm of unstructured data from a brand standpoint," Srivastava added. After Jade Magnet, Srivastava, an alumnus of Great Lakes Institution of Management, wanted to plunge into the Big Data space.
Bharathwaj used to run a $300 million hedge fund with a focus on carbon credits. Bharathwaj was Srivastava's client at Jade Magnet.
However, the duo now has their work cut out as several players have entered the social media analytics sphere for equities in the last few years. In fact, Seeking Alpha, Stocktrade and other platforms, from which Stockal curates content, are also potential competitors.
Then there are players such as Dataminr UK Ltd, Social Market Analytics Inc and other US-based ventures which render similar services to enterprises such as hedge funds.
"We aim to differentiate on pricing as our India base gives us cost and labour arbitrage benefits over several competitors," Srivastava maintained.
Business model
For the first six months, the Stockal app would be free to use. After that, the company will operate on a subscription-based model and charge for various levels of intelligence. "For instance, if you are following more than 20 stocks, you pay for insider trade signals and certain kinds of buy/sell analysis," Srivastava said.
Eventually the company hopes to join hands with brokerages to try and generate more revenue. "We will embed brokerage platforms on the Stockal app so that their users can transact from our app," he added.
Stockal also wants to monetise the data mine it has built internally. The company claims it is in talks with a handful of financial technology startups to help them access its curated unstructured data. The startup is also keen to engage with app developers, blog administrators and analysts who may benefit from data culled from social networks.
Investors' interest
Stockal co-founders collectively put about $15,000 in the venture to get things rolling even before Stockal was incorporated. Post incorporation, Stockal raised a round of seed funding from a group of unnamed investors. The funds, which Srivastava declined to specify, were used for the initial product roadmap and to build the company's seven-person team.
Stockal plans to launch another external round of funding soon.
"Given the money at stake in the stock market, any tool that can influence trading decisions is a welcome addition to the trader's arsenal. However, we should keep in mind that Stockal is just another sentiment analysis tool for stock traders. If Stockal keeps evolving its algorithms and natural language processing capabilities, it could soon be widely used," said Ajeet Khurana, an angel investor who has put money in startups such as Rolocule Games and United Mobile Apps but is not involved with Stockal.
"Popular tools are most likely to have their algorithms gamed and this is something Stockal should watch out for," he warned.
Future plans
With the next round of funding, Stockal expects to clock 100,000 downloads (largely through its iOS app) in the next 12 months. The startup will launch its Android version by year-end.
After catering to investors in the US, Stockal wants to setup shop in China and the UK.
---