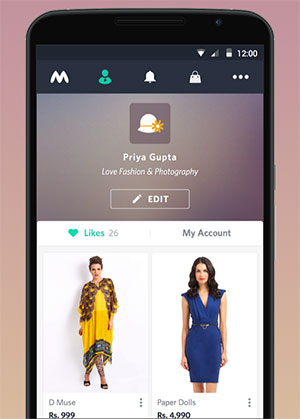 Flipkart owned fashion e-tailer Myntra is relaunching its mobile website, six months after it went app-only. However, only parts of the mobile site were functional and a user could access only select product categories.
E-commerce giant Flipkart too had done  a u-turn on its app-only strategy last month when it re-introduced its mobile website called Flipkart Lite. It had discontinued its mobile website version in March. Flipkart had been mulling about adopting an app-only model and phasing out its desktop presence, unveiling mobile-only offers in a bid to nudge customers to download the mobile app.
Queries sent by Techcircle.in to Myntra went unanswered at the time of filing this report.
Myntra's latest move was first reported  by Medianama.
Myntra had shut down its mobile website and gone app-only on May 15, betting high on the growth of mobile based commerce as the future of online shopping.
At that time, Myntra claimed  9 million people had downloaded Myntra app, and it was targeting five million more downloads in the next three to four months. Sachin Bansal, co-founder and CEO of Flipkart, had said that close to 95 per cent of traffic and 70 per cent of sales come through mobile devices.
Mukesh Bansal, co-founder and CEO of Myntra Designs Pvt Ltd, which runs Myntra, had then said he would not expect to lose customers due to this shift in its sales strategy. "We expect our market share to go up in the next six months," he had said.
However, an Economic Times news report a week later had suggested that Myntra saw a 10 per cent decline in sales after it went app-only, even though Myntra officials refuted the claim.
It appears that Myntra's strategy of going app-only might have backfired.
An app-only strategy does help the e-commerce player concentrate on building up the mobile ecosystem which is expected to see an avalanche of customers given increasing smartphone penetration. However, as entry-level smartphones offer limited storage space for apps, there is a tendency to uninstall apps which are not frequently used. More importantly, media reports say Google has revamped its search algorithm with a penalty on App Install Interstitial, and that could have played a part in Flipkart's u-turn.
The app-only strategy of Flipkart and Myntra had received mixed responses. Flipkart's competitor Snapdeal had recently said that it will continue with mobile and desktop versions for the time-being. In an interview  with The Times of India, Bahl said Myntra's move to morph into an app-only player was the 'dumbest' and the 'most consumer-unfriendly idea.' Bahl added that 80 per cent of Snapdeal's users said in a recent survey that they wanted the PC site to remain.
Myntra, which got acquired by Flipkart last year in a $370 million deal, competes with e-tailers such as Jabong, Koovs, Amazon and Snapdeal.
In an interview with Techcircle, Zomato co-founder Deepinder Goyal also denounced  the 'app-only' strategy adopted by several consumer internet firms.
In October, food ordering startup Yumist.com, which was operating on the app-only model announced that it is moving  away from the app-only approach by enabling its website to take orders.
Some of the other players who recently adopted the app-only route include dating property Truly Madly, quick service restaurant and delivery chain Faasos and cabs aggregator Ola.
---