Recap 2015: An Indian startup got funded every 8 hours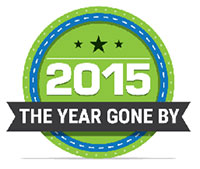 Indian entrepreneurs never had it easier in raising funds as angel and venture capital investors put money in a startup almost every eight hours in the year gone by.
According to data from VCCEdge, the data research platform of VCCircle, angel and VC investors have sealed as many as 1,096 deals so far in 2015, up 68 per cent from last year, a record jump and also the highest early-stage investment in India. Of these, angel and seed investors funded 632 deals while VC investors backed the remaining.
In value terms, angel and VC firms together contributed 24.5 per cent of the total private investments so far in 2015, up from 17.2 per cent contribution last year. On a standalone basis, angel funding picked up speed in 2015, breaching the $300-million mark for the first time, from $196 million in 2014. VC funding showed a similar trend as it crossed a new milestone, clocking deals worth $5.183 billion so far this year, as against $2.287 billion last year.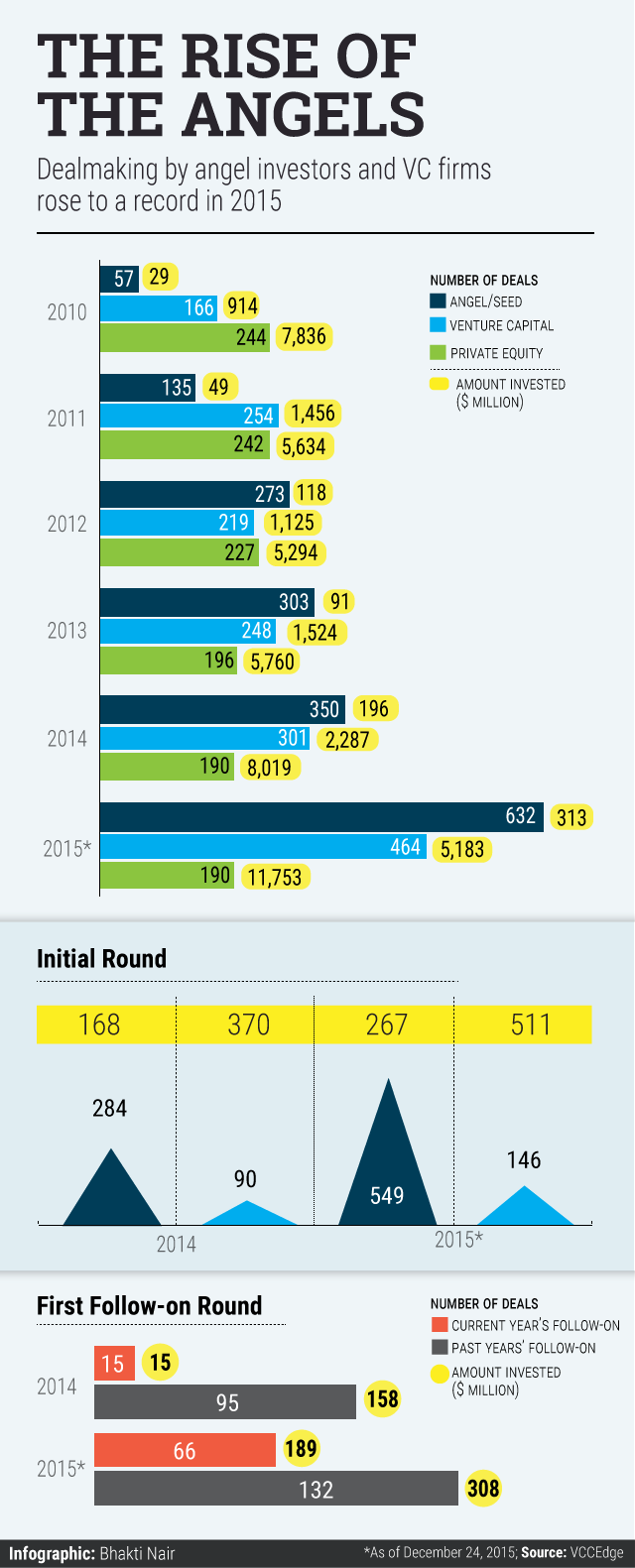 Investments by angel and venture capital funds drove overall private investments to a new peak. The spur in early-stage investment comes at a time when established Indian startups are continuously raising money, acquiring other firms and are slowly joining the still small but growing list of unicorns (Zomato is the latest to join the bandwagon).
Standalone private equity investments have risen to $11.753 billion across 190 deals so far in 2015 but this is still down from the peak of $12.457 billion across 332 deals in 2007. In contrast, angel and VC investment numbers have gradually gathered momentum.

VC and angel firms generally make small investments in early-stage companies and are different from private equity firms, which invest larger amounts typically in more mature firms.
More companies went for initial rounds of funding in 2015. Angel/seed and venture capital firms invested a total of $778 million over 695 deals, according to VCCEdge. In comparison, 2014 had seen $538 million being invested across 374 deals. On a standalone basis, angel/seed investors sealed more number of deals compared with VCs over the last two years, though VCs led the race in value terms.
In total, angel/seed investors clocked 549 deals putting in $267 million during the year, compared with 284 deals that invested $168 million. On the other hand, VC firms clinched 146 deals during the year investing $511 million as compared with 90 deals to invest $370 million last year.

For instance, deals discovery app Little Internet raised $50 million in July 2015 from One 97 Communications, SAIF Partners, Tiger Global and other investors.
The number of startups that raised follow-on funding after receiving initial investment went up in 2015. The number of firms that started in 2015 with angel/seed investment and subsequently raised follow-on money for the first time in 2015 also rose. There were 66 such first follow-on deals that raised $189 million. In contrast, only 15 such deals worth $15 million were clinched in 2014.
For instance, Gurgaon-based bus aggregation platform recently raised $20 million in Series A funding from Lightspeed Venture Partners, Sequoia India and Times Internet Ltd. Shuttl had raised $3 million from Sequoia and angel investors in August 2015.

The number of companies that started in a previous year with angel or seed investment and went in for follow-on funding in 2015 increased, too. The year saw $308 million being raised over 132 such deals. In comparison, there were 95 such deals that raised $158 million in 2014.
---