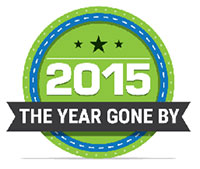 For venture capital firms, 2015 was by far the best year for investment. And some had a more eventful year than others.
While Sequoia Capital maintained its pole position, after inking many more deals than 2014, Helion and Blume Venture (which is now raising a new fund as it has almost exhausted the corpus of its debut fund) slipped out of the top charts. Tiger Global and Kalaari Capital entered the top league while Accel and Nexus Venture Partners also retained a place in the elite club, as per data collated by VCCEdge, the research platform of VCCircle.
The listing below takes a look only at the most active VC firms by the number of deals struck last year as many transactions involved consortium deals with multiple investors and typically the breakup of the money invested in them is not disclosed. It, however, does not include some transactions where Indian ventures raised PE or growth-stage funding with participation of some of these VC firms.
Moreover, it includes some deals where Indian VC firms invested in overseas firms. It also counts multiple investment rounds by a VC in the same portfolio firm as separate transactions.
Here is a look at the most active VC firms of the year: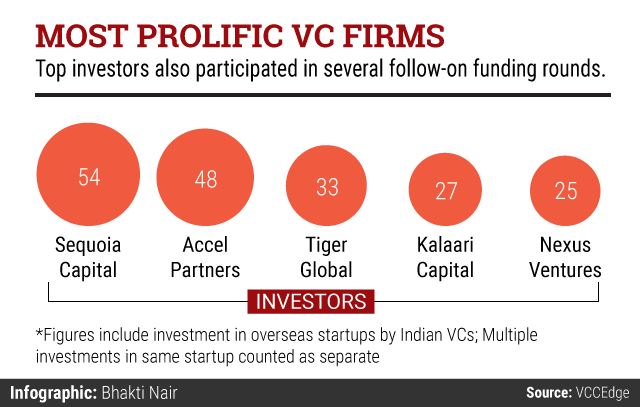 Sequoia Capital Sequoia sealed more than a deal every week (two-thirds of which were follow-on investment rounds or tranche in existing portfolio firms) across the internet services, retail and healthcare segments. Its new portfolio firms include Shuttl, Craftsvilla, Chillr, WizRocket, MedGenome, Roadrunnr, Happay, Goodservice, La Renon, Voonik, ThePorter, Akumentis, Grabhouse, Quopn, Urban Ladder, Groupon India (now Nearbuy), HomeLane and Capitalfloat.
The firm, which launched its fifth India-focused fund just a year after raising a record VC investment vehicle, also backed Taiwanese e-commerce startup Pinkoi. Two of its portfolio firms, Equitas and Quick Heal, have filed for IPOs.
Accel Partners Moving up the charts from last year, Accel was close behind Sequoia. It added Capricoast, Blackbuck, Qikpod, UrbanClap, Rentomojo, Moglix, Fortigo, Opinio, Mubble, Bizongo, Neumob, Indifi, CureJoy, Flip Technologies, InfinityPool, ManageMySpa and others to its portfolio. In fact, it beat Sequoia as the most active VC firm in terms of new companies in the portfolio.
Tiger Global Hedge fund and venture investment firm Tiger Global is a new entrant to the list with 34 deals to its name. The early backer of some of the marquee names such as Flipkart and Ola has also invested in Lybrate, Saavn and mobile tech startup Cube26, among others.
Kalaari Capital Kalaari is another new name making it to the top-five list as it inked 28 deals. Formed in 2012 by the founders of Indo US Venture Partners, Kalaari is on the road to raise a new India-dedicated fund. Some of its major investments this year include Simplilearn, Urban Ladder and Scoopwhoop.
Nexus Venture Partners With 25 deals Nexus ranked fifth in the list. The VC firm, which recently raised a new fund, now enjoys the rare distinction of an India-dedicated venture investment firm with over $1 billion in assets under management. The firm, which has also been backing enterprise tech startups in the US with no direct link to India, had three successful exits this year compared with only one last year.
---