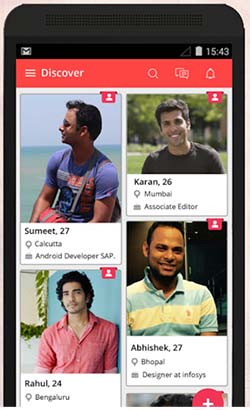 GetVee Technologies Pvt Ltd, which runs assistant matrimony platform Wedlock and couples-only app Fym, has raised an undisclosed amount in a bridge round of funding from existing investors Lightspeed Venture Partners, Portea chairman K Ganesh) and CarDekho CEO Amit Jain.
"The round is still open and we are still in talks with more investors," Nitin Gupta, founder and CEO, GetVee Technologies Pvt Ltd told Techcircle.in.
The money will be utilised for product development, added Gupta.
In November 2014, it had raised $1 million in a pre-Series A round of funding from Lightspeed Venture Partners.
Around six months back, the company pivoted its business model, shifting focus from its existing casual dating platform Vee towards Wedlock.
"Our focus as a company is on the relationship domain now, on running Wedlock and the new app called Fym," said Gupta.
Wedlock is an assistant matrimony app which enables singles above the age of 24 to look for a life partner. It provides both men and women with relevant matches on the basis of various preferences set by the user.
Wedlock users have to pay a fee to unlock various features in the app. It claims to be witnessing 15 to 100 transactions daily, which it says has been growing at 20 per cent on a week-on-week basis. Wedlock has 25,000 registered users, claims the startup.
It recently introduced a one-on-one audio calling feature within the app. The daily active male to female ratio is 65:35, said Gupta, adding that the company expects to break even in three to four months on its operational expenses.
The Fym app, meanwhile, is targeted at people who are already in a relationship. Available on iOS and Android platforms, it is like a private chat zone enabling private communication, audio calling, video calling and text. It also rewards couples for offline experiences. It will also add a feature that allows couples to track their daily expenses.
From Vee to Wedlock
Gupta says the casual dating space in India is unlikely to be a viable business proposition for a long time. The challenges in monetising the platform was what made it move away from Vee, he said.
"We removed the dating part and have kept the conversation part. It still exists but we are no longer actively promoting it," said Gupta. "We don't want to spend marketing dollars or anything on that platform," he added.
Challenges in the dating space
The most important factor is the low subscription numbers for women. And with the number of women on the platform very few, the chances of a male user striking a conversation with a female user is extremely low.
"This is not a business model we want to continue working on. On a casual dating platform it was very clear that users were not paying. It is very hard to retain a female user and to crack a conversation. We couldn't see the scale happening because there wasn't enough activity and no exciting subscriptions which were happening," Gupta added.
Competition
The online matrimony space already has entrenched players such as Shaadi.com, Bharatmatrimony.com and Jeevaansaathi.com. But Gupta says that there still lies an opportunity to disrupt the market.
"Big players such as Shaadi and Bharatmatrimony are controlled by parents. You talk to 100 people and 99 will say it's been controlled by my brother, my mom or my dad," says Gupta.
Wedlock, on the other hand, is primarily driven by the user, the company claims. It is also a mobile-only app. "When you go to the other big platforms you get a website experience. All you are doing is database searching while Wedlock is personalised," Gupta explains.
---