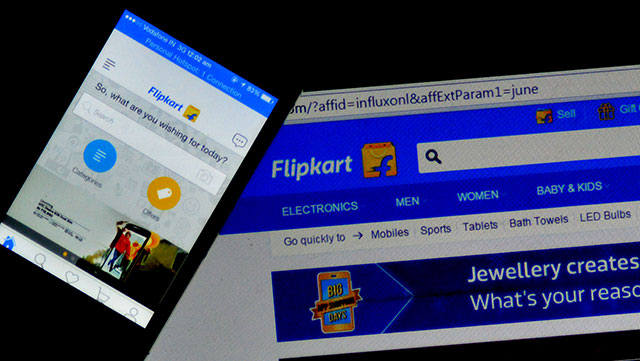 India's largest e-commerce venture Flipkart is pilot testing a wallet service christened Flipkart Money that marks the e-com giant's entry into the payments business just as its rivals Snapdeal and Paytm are further strengthening their wallet services.
FX Mart, a payment services startup that deals in electronic payments, remittance, foreign exchange and travel related businesses, is the force behind Flipkart Money, The Economic Times reported. Flipkart had acquired a majority stake in Chandigarh-based FX Mart in September 2015.
According to the report, the wallet, launched on Android, can be recharged with Rs 10,000 at a time using credit card, debit card and net banking. The service is expected to facilitate quick refunds and single click payments on the platform.
Users can keep a balance of Rs 10,000 on the wallet as Reserve Bank of India's regulations restrict users to keep and spend only up to Rs 10, 000 in their mobile wallets. A total of Rs 25,000 can be added to it a month, the report said.
FX Mart had obtained RBI licence on semi closed prepaid instruments and had previously received green signal for full fledged money changing (FFMC) in May 2013.The deal was rumoured to be a move by Flipkart to offer its own digital wallet as a payment option. FX had also applied for payments bank licence but failed to make the cut.
A Flipkart spokesperson declined to comment on the development.
Snapdeal-controlled Freecharge, which claims to have around 30 million registered users, had recently launched a virtual card named Freecharge Go that can be used to make payments across websites in India. On Freecharge Go, which is linked to FreeCharge wallet, users can top up the card by adding money to FreeCharge wallet. Any form of digital cash—be it cashback, refund or money received on the wallet—can be used for online transactions across websites.
Furthermore, Snapdeal had integrated FreeCharge's mobile recharging, utility bill and DTH payments into its Android and iOS apps last month. Oxigen Wallet had also introduced a similar offering in a tie-up with Visa Card earlier.
Another strong player in the payment business Paytm was one of the 11 applicants which received RBI's in-principle nod to get a payments bank licence last year. Paytm had recently appointed former RBI executive Shinjini Kumar to head its payments bank and plans to separate its payments business under a new company called Paytm Payment Bank Ltd.
On September 2014, Flipkart had said it is shutting down its one-year-old payment gateway service PayZippy. Launched in July 2013, PayZippy enabled card payments for merchant websites and mobile sites, while its B2C version allowed customers to store their card details and make payments on partner merchant sites. It had also tied up with merchants to give offers like cashbacks, discounts on transactions and gift vouchers to initial customers of the service.
The Union Cabinet's decision to withdraw surcharges, service and convenience fee on digital and card payments is expected to give a fillip to cashless transactions and ensure greater financial inclusion.
---