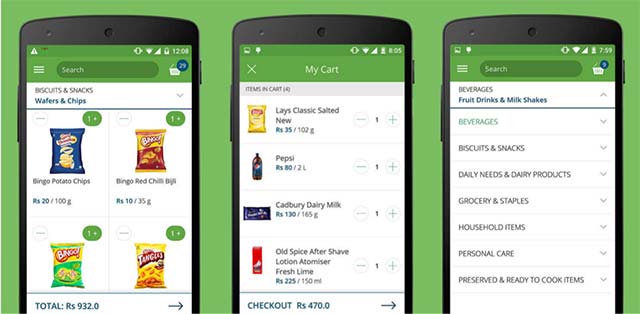 Ninjacart, an online B2B marketplace that connects farmers and brands to retailers, has raised $3 million (around Rs 20 crore) in Series A funding round led by Accel Partners.
Others who participated in this round include Qualcomm Ventures, M&S Partners (Singapore) and Zop Smart, the company said in a statement.
The new funds will be used to expand the team, invest in supply chain infrastructure and technology.
Ninjacart, run by 63Ideas Infolabs Pvt Ltd, allows supermarkets, kirana stores and standalone shops to source fresh fruits and vegetables, staples and FMCG goods at competitive prices directly from farmers and brands. The company claims to supply 15 tons of vegetables and fruits daily to over 120 retailers, who have a repeat usage rate of 98 per cent, and week-on-week growth of 30 per cent.
The startup was founded by former Taxiforsure, OLA and Commonfloor executives in May 2015. It started as a hyperlocal grocery delivery company, but pivoted its model to become a full-fledged B2B marketplace in December 2015.
"Due to marginal farming, poor logistics and zero market information there are numerous middlemen involved in getting the produce from farmers to markets. The farmer gets only one fourth of what the consumer pays. We try to solve these problems by bridging the gaps so that the farmer gets a good value for his produce and the stores get quality goods at competitive price," said Thirukumaran Nagarajan, co-founder of Ninjacart.
The founding team includes Nagarajan, Sharath Loganathan, Kartheeswaran K K, Ashutosh Vikram, Sachin P Jose, and Vasudevan Chinnathambi. The founders have worked with companies such as Commonfloor, Olacabs, HT Media, Verizon Labs, Taxiforsure, and others.
In India, Accel Partners has backed Flipkart, Myntra, Ola Cabs, TaxiForSure, Perfint and BookMyShow. It had raised $305 million for its Accel India IV fund last year.
---