DataWeave thinks there's gold in retail analytics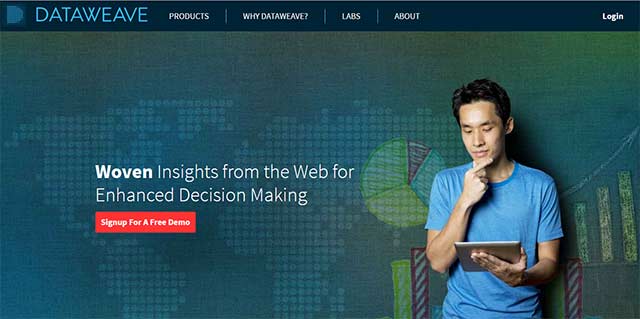 Bangalore-based big data startup DataWeave Software Pvt Ltd is focusing on retail analytics as part of its growth strategy.
In an interaction with Techcircle.in, DataWeave CEO Karthik Bettadapura said the retail space has become dynamic with constant changes in products and pricing. With India taking to e-commerce and organised retail in a big way, there are more takers for big data analytics.
"Traditional sales and marketing methods do not hold good under such a scenario," said Bettadapura.

According to Bettadapura, the global market for competitive analytics in retail is estimated at $7 billion. In India, this market is currently estimated at $150 million.
In February last year, the startup had raised an undisclosed amount in pre-Series A funding from existing investors that include Blume Ventures, TLabs (Times Internet's startup accelerator) and Google India MD Rajan Anandan. Teruhide Sato, founder of Japan-based global internet and e-commerce business incubator group BEENOS and Hiro Mashita, founder of Singapore based M&S Partners Pte also participated in that round.
The bulk of those funds was used to beef up its customer acquisition team, sales, marketing and product development.

Earlier in 2013, DataWeave had raised $270,000 from Blume Ventures, TLabs, 5ideas Startup Superfuel, Meta Studio Advisors besides angel investors Rajan Anandan, Pankaj Jain, Bharathram Thothadri, Krishna Mehra and Abhishek Gupta.
Founded in April 2011 by Karthik Bettadapura and Vikranth Ramanolla and officially launched in June 2012, DataWeave is a language agnostic trans firewall analytics platform that analyses and aggregates all externally available data relevant to an organisation and provides actionable insights.
Trans firewall analytics refers to the analysis of unstructured external data that is available on the public domain spread across a lot of sources that is continuously changing. DataWeave helps users discover, monitor and visualise public data on the web in a uniform format: APIs, dashboards and visualisations. It works by extracting and structuring relevant data and then stores it.

Intelligent insights
Besides the DataWeave platform, the startup also has two specialised data products that target retail analytics and brand analytics. The retail analytics platform works by providing clients competitive intelligence around pricing, assortment and promotions across the competition and helps them to optimise their own offerings.
"For instance, we analyse the top 10,000 SKUs at a retailer and compare it across competition and realise that 4000 SKUs are not available with the competing retailer. We bring this to the notice of the retailer who can then increase the prices of those SKUs and still beat the competition," explains Bettadapura.

The brand analytics platform offers market intelligence for brands by analysing marketplaces, monitoring competing brands, analysing catalogue quality and protecting brand equity. This helps brands track whether e-commerce sites are giving unauthorised discounts on their products and how well full-price sales are doing to gauge the popularity of brands with its proprietary technology.
"Brands have very little control on how they are represented and sold in the online space. We provide the tools to analyse them on a real time basis on a large scale," said Bettadapura.
The company has more than 50 paying enterprise customers and hopes to bring this number to close to 100 by the end of 2016. According to Bettadapura, retailers form the bulk of the customers. Sports apparel makers Puma and Adidas are among the retailers using DataWeave's technology to track prices on e-commerce sites. It also counts some of the top names in the e-tailing space and online payments space among its customers. However, Bettadapura refused to divulge the names of these customers citing non-disclosure agreements.

Spreading the net
While DataWeave will focus on retail customers for the time-being, it is also looking at BFSI (banking, financial services and insurance) and the hospitality sector. According to Bettadapura, some interesting trends are beginning to emerge in these two sectors.
"We are always on the lookout for newer areas of application for our platform and the vision is to build as many specialised data products on top of our existing platform," said Bettadapura.

DataWeave has customers in India, South East Asia and the US and will scale up its operations in these three geographies. The company is also looking at Japan as a prospective market.
The company, which claims to be registering 250-300 per cent growth in revenue, hopes to attain profitability and break even by mid 2017.
"We have invested further into marketing initiatives of the company and have made some key hires in the sales and marketing team . Hence , we will have to wait for an year before hoping to achieve operational break even," said Bettadapura.
DataWeave competes with the likes of US based 360pi,Ugam Solutions and Price Manager in this space.
---