Exclusive: Why Times Internet's Satyan Gajwani moved to the US?

Bennett, Coleman & Co Ltd (BCCL), the country's largest media house, popularly known as The Times Group, is looking at building a global presence by acquiring or investing in small to mid-sized consumer-oriented internet companies primarily in the US and also promoting its own online platforms in the US market. This is the objective with which Times Internet's former CEO Satyan Gajwani has shifted base to the US. Times Internet is the digital arm of BCCL. The company recently elevated its former COO Gautam Sinha as the CEO, while Gajwani, also the son-in-law of BCCL vice-chairman Samir Jain, was named the managing director of Times Internet Ltd.
"With Satyan moving base to the US, we needed someone to run the show in India and that is why Gautam, who has a vast experience in building and running digital businesses, was handed over the reins of Times Internet," said a senior executive from the group requesting anonymity.

According to company insiders, Times Global Partners (TGP), the entity that has been exploring and managing partnerships with global digital companies to launch, market and monetise their brands and content in India, will be scouting for similar opportunities with US-based companies for the group's own brands. TGP brokered deals in India include BCCL partnerships with marquee global brands such as Huffington Post, Ad Age, Business Insider, Gizmodo, among others.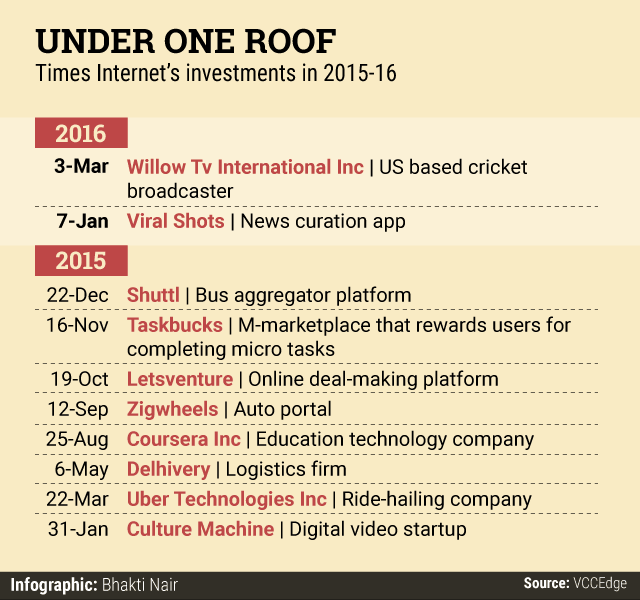 An email query to Gajwani did not elicit any response till the time of filing the report.

A TIL executive insisted that Gajwani's move to the US was primarily driven by personal reasons but admitted that while in the US, "it is natural he will explore opportunities for expanding our business". The executive added Gajwani "may also check out businesses that could be acquired or invested in to bring in global audiences into the Times' universe".
For the record, BCCL made a net profit of Rs 1,186.24 crore in 2014-15. This number excludes financials of its subsidiaries.
Gajwani moved to the US late last year, and in March this year TIL announced the acquisition of Willow TV, a US-based cricket broadcaster. The company has made significant investments in almost a dozen internet companies in India (see chart) in the past one year.

Some of the media publications of The Times Group compete with VCCircle. The Times Group also has an online realty venture MagicBricks, which competes with PropTiger. News Corp, the parent of VCCircle, owns 30 per cent stake in PropTiger.
---