Rocket Internet-incubated fashion e-commerce venture Jabong that hit a speed bump in the third quarter of 2015 (click here), saw a sharp slide in business in the last three months of the year, reflecting the pain of scaling back discounts.
Jabong that competes with Flipkart-owned Myntra among others, has been focusing on mending its leaking boat. Its EBITDA or operating loss (adjusted for share-based compensation) had been shrinking from Q3 and declined further in the three months ended December 31, 2015.
But the last quarter of a calendar year that is usually big for consumer spends due to several festivals in the country, saw its number of orders decline by a third. Orders also slid over the preceding quarter ended September 30.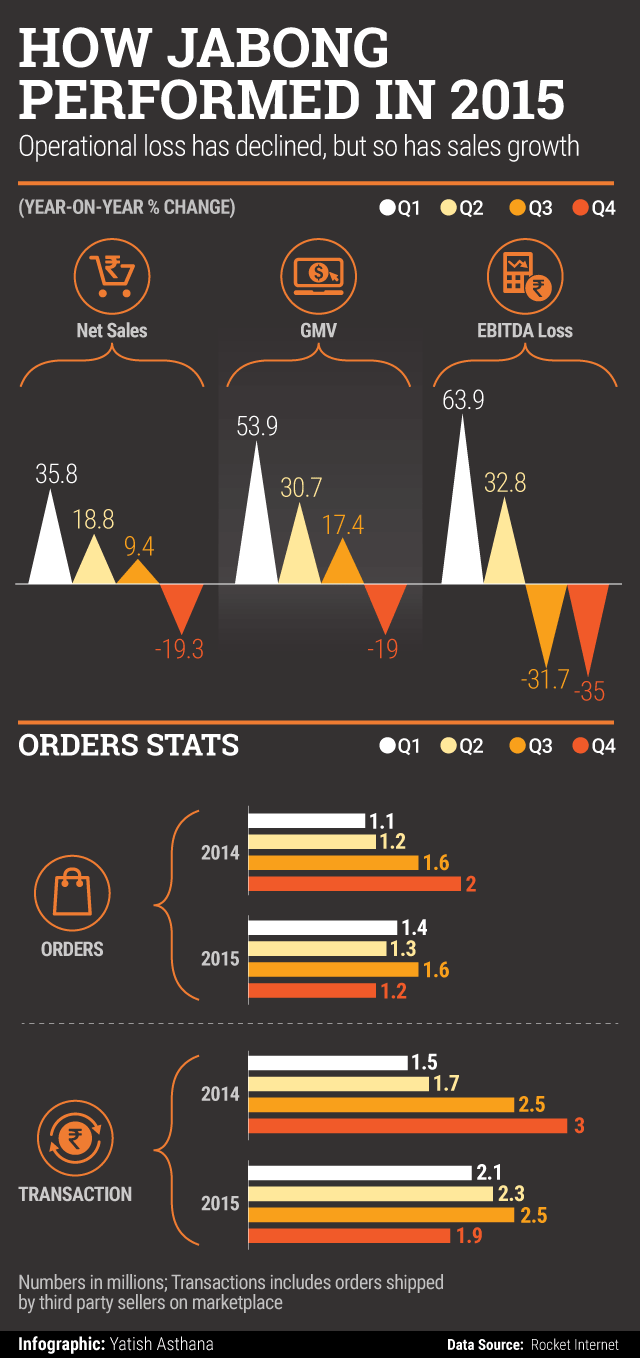 This shows the big risk for e-commerce firms at large who have grown at a hectic pace on the back of aggressive customer acquisition tactics with discounts. Some e-commerce firms maintain that they can turn profitable despite cutting down on discounting, but Jabong's experience shows that they could also face a challenge to grow business.
Indeed, there are already concerns over growth and that is showing up as large e-tailers like Flipkart are reportedly facing the prospect of lower valuation as they eye their next private funding round before they think of going public.
Interestingly, Jabong's new CEO Sanjeev Mohanty had gone on record to claim that the firm is growing at a fast clip.
Jabong had said in February that it registered the highest-ever month-on-month growth of nearly 35 per cent in net revenue for January, which marks its best performing month ever since inception in 2011. Mohanty had joined Jabong from Benetton India in December 2015.
In what appeared to be a veiled reference to arch rival Myntra, he had said, "Some players in the industry hide their real performance behind the veils of lofty GMV figures. In those terms too, we touched $66 million in GMV in January itself positioning us as the largest fashion e-commerce company in India, with a robust growth of 56 per cent in our gross orders and 59 per cent in gross items. At this rate, we will be within striking range of the $1 billion GMV mark by our year-end."
Jabong spokesperson did not immediately respond to an email on its poor Q4 performance.
To be fair, the company gave a lofty picture for January and it may have improved its business in the first month of the new year. A clearer picture would be visible when Rocket Internet discloses its results for Q1.
Jabong, which has a hybrid e-commerce model with both inventory based business and third-party merchants selling through its marketplace, saw GMV shrink by one-fifth to Rs 377.3 crore in Q4 2015, while net sales was down to Rs 218.5 crore over the year-ago period.
GMV is the value of products sold through an e-commerce platform before discounts. It is a key performance metrics used by e-commerce firms even as actual revenue that the firms clock is much less as consumers rarely pay the full price or the maximum retail price (MRP) for a product.
Jabong recently saw a slew of top management changes with founding team members moving out. Besides Mohanty, it had hired former eBay India country manager and chief operating officer of IndiaProperty, B Muralikrishnan, as COO. It also hired a new HR head.
Jabong has also been on the radar of other e-commerce companies. As first reported by VCCircle, e-commerce giant Amazon.com, Inc was in talks to acquire Jabong where the asking valuation was $1.1-1.2 billion. The deal was called off due to a mismatch in valuation by the prospective buyer and Jabong's shareholders.
The Economic Times reported on Friday, citing unnamed sources, that there are no takers for the firm even at one tenth that asking price.
---