Why VC-backed PepperTap shut its hyperlocal grocery business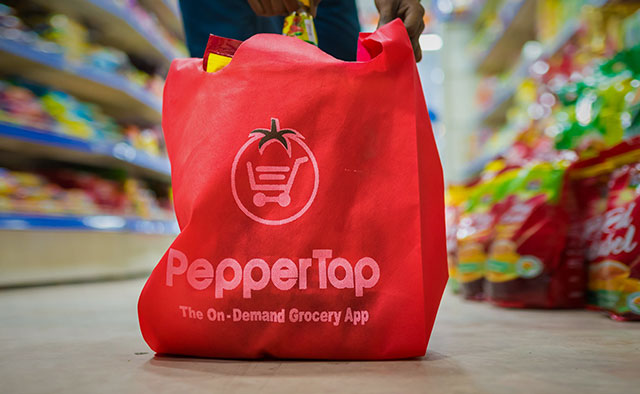 Gurgaon-based PepperTap began its online grocery delivery business in late 2014 and quickly expanded to become the third most heavily funded player after BigBasket and Grofers. Its end was equally quick.
The startup late last week decided to shut down its main business after months of rapid expansion showed no signs of profitability and deep discounts led to high cash burn. A slowdown in funding that makes it tough to raise additional money from investors made matters worse.

PepperTap, operated by Gurgaon-based Nuvo Logistics Pvt Ltd, is at least the fourth company in recent months to shut down its hyperlocal grocery delivery business after LocalBanya, e-commerce firm Flipkart's Nearby app and cab-hailing firm Ola's Ola Store offering.
"Losing cash on every order (no matter how small or how controlled or how goal-oriented the burn) meant one day we will run out of cash – perhaps we could slow down the process but mathematically speaking, this was a certainty," PepperTap co-founder Navneet Singh said in a blog post where he explained the problems the startup faced that finally led to the shutdown.

Singh said the company faced difficulties in integrating its app with the partner stores as it had "brought too many stores online far too quickly" and its customers were, at times, unable to see the entire selection of items from a store.
Another problem was the high discounts the company offered to win and retain customers. "In a world where everything for sale through an app (think electronics, taxis, food) is synonymous with vastly cheaper prices than physical stores, this exercise often simply resulted in higher outright discounts with every passing week," Singh said.
But high discounts led to excessive cash burn. The company then decided to focus on building capacity in its logistics business and halted grocery operations in six cities including Mumbai and Kolkata in February. "We decided on this list by looking at the size of our customer base in each city, and the pain we would cause to all stakeholders by shutting them down. Relatively new cities with a small customer base were selected for closure," Singh said.

The scaling back of operations, Singh said, helped the company to improve sales and customer retention rate in its remaining markets. However, the "pessimistic" funding environment prompted the company to decide on shutting down its main business, he said.
While Singh didn't specify the number of employees who will be laid off in his blog post, he told PTI that the company will absorb 50 of its 200 people and will let go the remaining.
Singh added that PepperTap still has a "large chunk of equity capital from its last round" and will now focus on building its logistics business.

PepperTap had raised $36 million in Series B funding from investors including Snapdeal Sequoia India and SAIF Partners in September 2015. It closed this round by raising $4 million from Innoven Capital in December. In April last year, it had raised $10 million from SAIF Partners and Sequoia.
PepperTap was founded in November 2014 by Singh and Milind Sharma and operated in 18 cities across India at its peak. Its biggest competitors were Grofers and BigBasket. In January 2016, Grofers India Pvt Ltd closed down its operations in nine cities to consolidate its business.
Among other grocery delivery startups that shut shop, Mumbai-based online supermarket LocalBanya stopped taking orders in October 2015. It tried to revive itself but its discussions with three investment groups failed.

Earlier this year, Flipkart closed its grocery delivery app Nearby while Ola shut its Ola Store service.
---