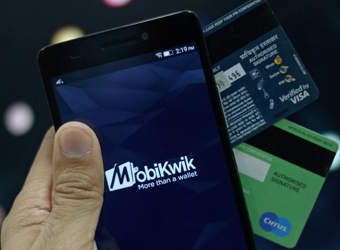 Mobile wallet MobiKwik has scrapped a scheme that promised a so-called annual profit to its users after regulatory intervention, less than a week after announcing the offer.
Gurgaon-based One MobiKwik Systems Pvt Ltd had only last week announced a plan to offer 6% annual profit to users who maintained a monthly balance of at least Rs 5,000 in their mobile wallets.
The company termed the payout "profit" instead of interest to avoid falling foul of the Reserve Bank of India's (RBI) regulations that bar wallet companies from taking on deposits and offering a fixed payment in return.
But a spokesperson for the RBI said in a response to a VCCircle query on Tuesday that the company is no longer offering the product.
"Mobile wallet companies are not permitted to mobilise funds/deposits by offering cash back in nature of interest, etc. To our knowledge the entity (MobiKwik) is no more allowing/offering such product," the spokesperson said in an email.
The digital wallet company has also removed all messages regarding the 6% annual profit from its website. But it indicated that it could relaunch the offer after resolving regulatory concerns.
Bipin Preet Singh, co-founder and CEO, MobiKwik, said the profit cashback offer was part of incentives to reward existing users and encourage more users to sign up. "There were certain concerns on the language of the campaign that were flagged to us and we are working with the regulators in resolving these concerns so we can continue with the offer," he said.
The digital wallet company has also removed all messages regarding the 6% annual profit from its website. It didn't respond to an email seeking comment.
The company has about 30 million wallet users and has previously said that it aims to increase this to 70 million users by the end of 2017.
While launching the scheme last week, MobiKwik had said that it was "poised to become a digital bank" and that it aimed to cater to the financial needs of its wallet users with micro loans, profit on wallet balance and cashless transactions.
"This is the first time in India that users can get higher profits than institutional savings on their mobile wallet balance," it said at the time.
The 6% annual profit was seen as MobiKwik's reaction to rival Paytm's announcement on giving higher interest through its payments bank.
MobiKwik had last year missed the bus to get approval for a payments bank. If the annual profit scheme had been approved, MobiKwik would have offered banking-like services without having a banking or a payments bank licence. Most banks in India offer 4% interest on savings accounts; private-sector lenders YES Bank and Kotak Mahindra Bank are among the handful that give up to 6% on deposits above a minimum threshold.
Like this report? Sign up for our daily newsletter to get our top reports.
---