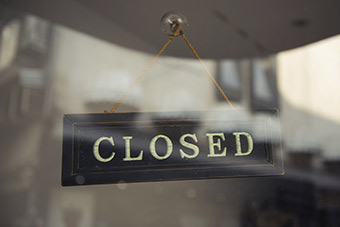 Hyperlocal mobile commerce marketplace LazyLad has pulled down the shutters on its business-to-consumer (B2C) operations, laying off close to 30 people in the process.
Saurabh Singla, co-founder and CEO, LazyLad confirmed the development to Techcircle. He said that the company is looking at pivoting into a marketplace focused on business-to-business (B2B) model.
"As you can see, the mobile app is not functional. We have shut down the business-to-consumer (B2C) segment of the business and are looking to pivot to the B2B side of the business," he added.
Founded in April 2015 by IIT-Guwahati alumni Saurabh Singla, Paresh Goel and Ajay Sethi, LazyLad's app gives access to neighbourhood retailers in six product categories that include flowers, daily groceries, fruits and vegetables, stationery, bakery and confectionery items, and meats and seafood.
In February 2016, Techcircle had reported that LazyLad was in advanced talks to raise $2.5 million from Japanese investors but it seems that the talks fell apart, which prompted the company to take the decision.  At that time, the company was planning to add 25 cities by the end of 2016. It was facilitating 700 orders per day.
LazyLad offered its services in Gurgaon, Chandigarh, Sirsa, Roorkee, Mohali, Panchkula and Zirakpur.
LazyLad, run by Gurgaon-based Angular Technologies Pvt. Ltd, was the first startup selected for Green House Ventures' (GHV) accelerator programme. It raised about $100,000 in the seed round from Green House Ventures in May 2015.
In July last year, it had raised $500,000 (around Rs 3.18 crore) in its pre-Series A round of funding from Tekton Ventures' founder and managing partner Jai Choi, Japan-based Sugashita Partners' Kiyohiro Sugashita, and Japanese venture capitalist Hirokazu.
The e-grocery business is plagued with wafer-thin margins, high logistics costs, exponential customer acquisition costs and fierce competition, and has witnessed a number of casualties recently.
Last week, Techcircle reported that GetNow.at, a Nagpur-based hyperlocal marketplace for groceries, electronics, mobiles, computers, home and office supplies, had closed its operations. The startup had also laid off eight employees in the process.
Delhi-based hyperlocal grocery delivery service AAGAAR.com, run by Asankhya Retail Pvt. Ltd, had also shut down operations recently.
One of the biggest players in the segment, Peppertap, which raised funding from SAIF Partners, Sequoia Capital and Snapdeal, recently decided to shut down operations.
In February 2016, e-commerce venture Flipkart had shut down its grocery delivery app Nearby, five months after it was launched in Bangalore. Soon after, cab-hailing firm Ola pulled the plug on its hyperlocal grocery delivery app, Ola Store.
Note: This article has been modified to more accurately reflect the company's position.
Like this report? Sign up for our daily newsletter to get our top reports.
---