After VCs, angel investors start deserting startups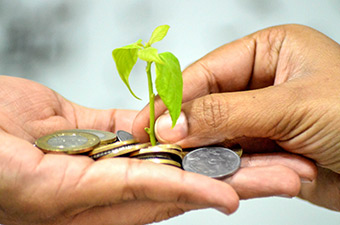 Dark clouds are on the horizon for startups in India. While initial reports for 2016 showed that venture capital was drying for startups, fresh trends suggest that even angel and seed investors are deserting them in droves.
The first stage funding for startups saw the steepest decline in the April-June (up to 28 June) quarter in the past 12 months, show the latest data compiled by VCCEdge, the data research platform of News Corp VCCircle.
The research shows that the number of angel and seed investment deals declined to 165 in the aforementioned quarter from 204 deals in the three months ended March 2016. Concurrently, the value of the total investments, too, declined sharply from $60 million to $40 million.
Likewise, the number and the value of the deals in the three months ended June 28, 2016 slipped in comparison with the same period previous year. In the April-June quarter in 2015, for instance, angel and seed investors had infused funds worth $65 million in 174 startups.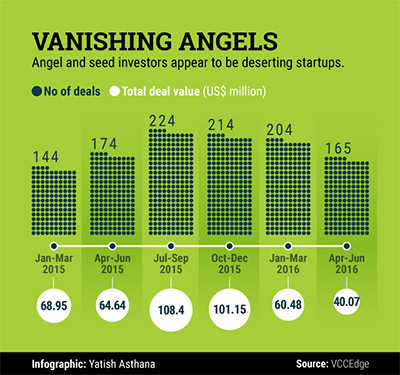 This effectively makes it the third quarter on the trot to register a slowdown in angel and seed investments, since they peaked in the July-September quarter of 2015.
This is an alarming trend considering that venture capitalists have already tightened their purse strings this year and are waiting for better opportunities.
While a declining trend had begun in the third quarter of the last fiscal itself, the slide hereto had been gradual, at least in terms of deal volume. The decline in April-June quarter has been steeper, with deal volume going down by nearly a fifth in comparison with the fourth quarter of 2016.
A perusal of the data on a monthly basis for the April-June quarter shows that while April 2016 saw the total number of deals at 63, the deal value was actually the lowest at $11.90 million. In May, on the other hand, 52 startups got funded at a total investment of  $14.89 million. The month of June saw just 50 deals, making it the lowest in a single month since at least January 2015.
These numbers are a far cry from the July-September quarter, which had seen as many as 224 deals valued at over $108 million. In fact, a VCCircle report in March this year had noted how in August 2015, a startup got early stage funding every 7.5 hours.
An earlier report in February had noted how Series A funding, too, had declined to 15 month lows.
Like this report? Sign up for our daily newsletter to get our top reports.
---