This is one statistic Maharashtra, one of India's most industrialised states and home to the country's financial capital Mumbai, can't be proud of. The western state has emerged as the top state in the country in terms of online fraud, government data show.
Maharashtra accounted for almost 46% cases of online fraud registered in the country between 2012 and 2014, according to latest data released last week by the home ministry in response to a parliamentary question. The state registered 708 cases in 2014 alone.
Figures after 2014 are not available with the government.
Online fraud cases encompass a very broad category of crimes including lottery scams, data theft, creation of false electronic records and multi-level marketing scams.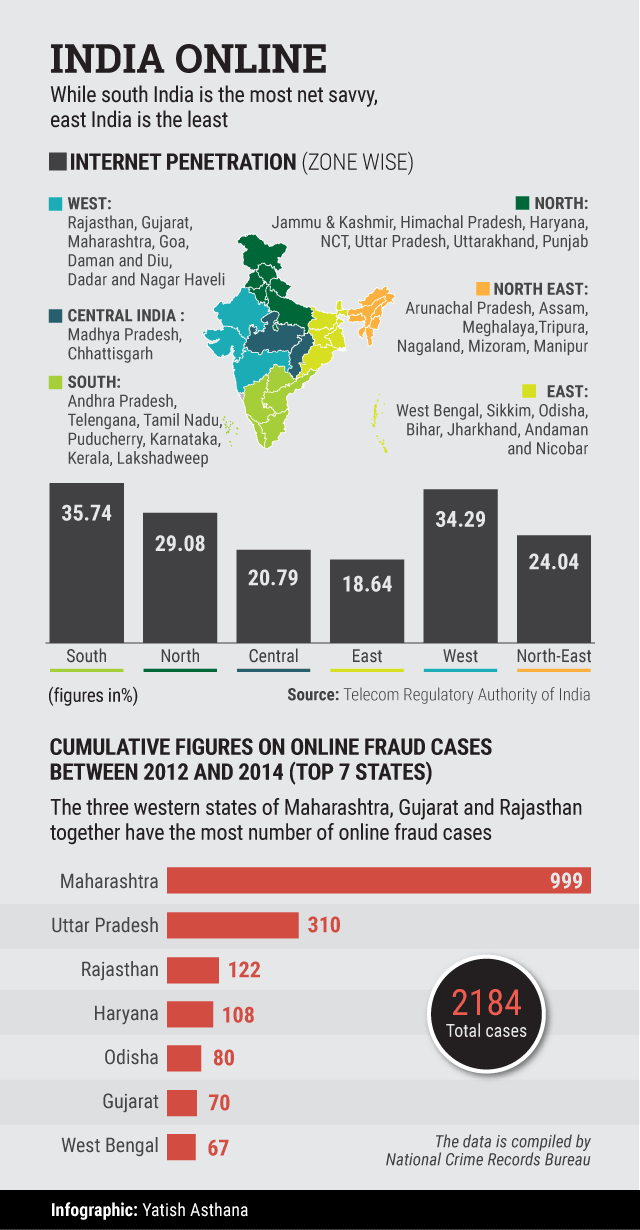 In terms of Internet penetration, the southern region--comprising Andhra Pradesh, Telangana, Tamil Nadu, Karnataka, Kerala, Puducherry and Lakshadweep--has a lead over the western states of Maharashtra, Gujarat and Rajasthan. Internet penetration in the southern region is 35.74% compared with 34.29% in the west.
However, the number of online frauds reported from the south of the Vindhyas during the same period was just 159, or less than a sixth of what the west reported.
Daniel R Pranjal, chief strategist at Strategy India, a Mumbai-based direct selling consultancy firm, said that most cases of online fraud are registered in Maharashtra because people in the state with a business culture are more aware and because the state's law enforcement agencies are better organised. "The police have done lot of efforts towards making people aware of what cybercrime is. It is much better and more organised in Maharashtra than any other state," Pranjal said.
Supreme court lawyer Pavan Duggal, who deals with cybercrime cases, disputed the government's figures and said that they were not reflective of the real trend.
"Given the massive under-reporting of cybercrime, the figures do not portray the ground reality," Duggal said. He said that a large number of victims of cybercrime do not come forward to report owing to a fear of negative media publicity.
Frauds aside, if one looks at the latest figures for Internet subscribers compiled by the Telecom Regulatory Authority of India, along with those from India's 2011 population census (the latest available), interesting trends on Internet penetration in the country emerge.
Although the overall Internet penetration in India stands at 28.3%, smaller states like Haryana, Himachal Pradesh and Punjab are far ahead. More than a third of residents of Haryana (excluding Gurgaon and Faridabad) are connected to the Internet and close to half the people across Punjab and Himachal Pradesh surf the web.
Similarly, four out of five people living in the national capital of Delhi, along with its neighbouring areas of Gurgaon, Faridabad, Gautam Budh Nagar (Noida and Greater Noida) and Ghaziabad, have Internet access.
Bihar, Jharkhand, Uttar Pradesh, Uttarakhand and Odisha are the country's least connected regions.
Like this report? Sign up for our daily newsletter to get our top reports.
---