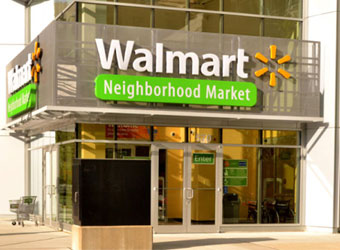 World's largest retailer Walmart Stores Inc. has finally entered the e-commerce business with the acquisition of a one-year old startup Jet.com. With the $3 billion takeover of US-based e-commerce company Jet, Walmart has signalled its interest in the lucrative online retail market. Given Walmart's size and history, it can be safely assumed that the company wouldn't be happy with an also-ran tag and would like to replicate its success as a physical retailer in the digital world as well. This means, it will have to take on the likes of Amazon.com, the world's largest e-commerce company.
With the buyout of Jet, Walmart may look at bringing the kind of efficiency and innovation it has across its traditional retail network in the US to its online operations. Jet may help boost the retail giant's online sales - which is just a fraction of its overall revenues. Walmart's online sales stood at $13.6 billion last year against its overall revenue of $482 billion. Amazon, incidentally, had generated $107 billion in sales in 2015.
Although the deal with Jet, only has implications for the US market but once Walmart enters the digital space, it is natural that it would like to expand its footprint and look at high growth potential markets such as India.
E-commerce sales in the US in 2015 totalled over $340 billion, a 14.6% increase over 2014's $298.3 billion, according to non-adjusted estimates released by the U.S. Department of Commerce. While India is one of the fastest growing e-commerce market in the world and is likely to touch $38-billion-mark this year, a 67% jump over the $23 billion revenue it clocked last year, it is still too small in comparison with the US.
India will be attractive for Walmart for several reasons. To begin with, most e-tailers with global ambitions cannot ignore this fast growing market. Secondly, its arch rival Amazon is quite bullish on India. In-fact, Amazon India VP Amit Agarwal in May announced that India is the second largest market for Amazon in terms of new customers.
Amazon's focus on India will force Walmart to step into this market, too.
How Walmart begins to build its online presence in India is something homegrown market companies such as Flipkart, Snapdeal, alongside Amazon will be closely watching, says Saurabh srivastava, chairman of Indian Angel Network (IAN).
"Although, Walmart's acquisition of Jet, currently, isn't driven by India consideration. The move, however, will have some implications for sure on India," he says, adding that "with the acquisition of Jet, Walmart will become a key player (in the e-tail business) without any doubt...I am sure all e-commerce companies such as Amazon, Flipkart and others must be thinking how this will play out."
Not everyone, however, agrees with srivastava. Sanchit Vir Gogia, CEO of IT & telecom research and advisory firm Greyhound Research, feels that Walmart will take time to move out of the US as its first priority will be to put the deal with Jet on a smooth path. "Walmart has been present in India for the longest time with its sourcing business. It understands the sourcing scenario in India but may not be clued in to consumer behaviour," Gogia says, adding that being a traditional company, transforming itself into an e-commerce player will take it some time. He believes the company will adopt a wait-and-watch policy, understand how the business pans out, build some internal competencies, and then enter India. "It will require some hand-holding and time to get ready for its ecommerce play in the country," says Gogia.
Walmart has been present in India for almost a decade. The company had entered into 50-50 joint venture with Bharti Enterprises but in 2013, it bought out its partner and decided to go solo.
It has since been rejigging its current operations and building its team and business consistently.
It currently owns and operates 21 wholesale stores offering nearly 5,000 items in cash and carry format.
Like this report? Sign up for our daily newsletter to get our top reports.
---