Mumbai-based technology startup accelerator Zone Startups India has provided seed funding totaling Rs 60 lakh to eight women entrepreneurs as part of its six-week accelerator programme empoWer.
Launched in April, the empoWer programme is aimed at women entrepreneurs in technology businesses and is backed by the Department of Science and Technology, GIZ, Vodafone India, Google, Nishith Desai Associates, and SheCEO, a Toronto-based women entrepreneur support organisation.
Zone Startups received 181 applications for the six-week empoWer programme and then shortlisted 15 women entrepreneurs. The entrepreneurs took part in mentoring sessions and workshops. They were also provided co-working space, case studies of successful women-led startups, and opportunities to connect with potential investors.
Of the 15, eight eventually received funding and other support. Saral Designs got Rs 10 lakh seed funding, while Dazl and Shubh Puja received Rs 7 lakh and Rs 5 lakh, respectively. Three startups—Algaari Systems, Math Adventures and Project Mudra—received Rs 7 lakh from German development firm GIZ.
Cloudrino was offered a two-week market access programme at the business incubator DMZ, Ryerson University, Canada. Vanity Cube was awarded £5,000 (Rs 4.3 lakh) for design and branding from DCCPER, a UX/UI design and product development firm based in Toronto, London and Goa.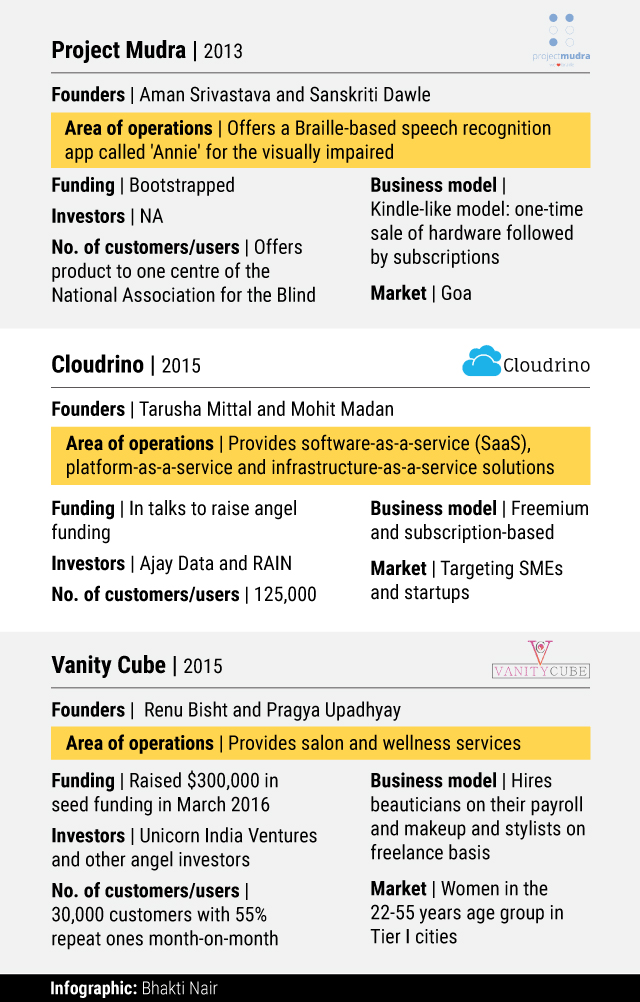 ---