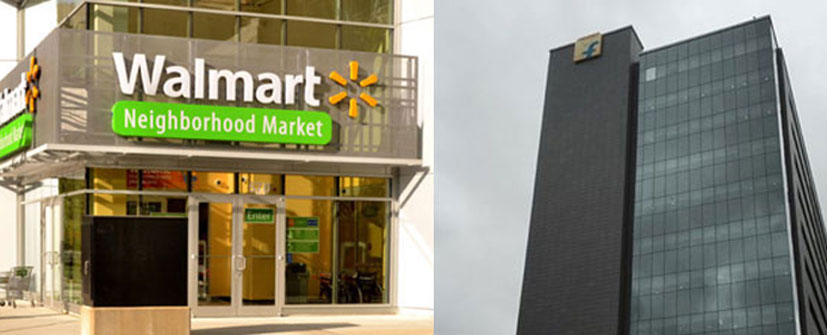 The world's largest retailer Walmart's acquisition of ecommerce company Jet.com has triggered speculation on whether this is the beginning of the company's ambitious play in online retailing, a link sorely missing in its larger business plans. Also, there has been some discussion on whether with this $3.3 billion buyout, the largest ever of an online retailer in the US, Walmart is getting ready to take on the world's largest e-commerce company Amazon.
Even as the epicentre of this development was the US, the tremors were felt thousands of miles away in India, which, incidentally, is the world's fastest growing e-commerce market in the world. India is also a market where Amazon is making fast strides along with heavy investments.
It is quite legitimate to expect that after firming its foot in the online retailing in the US, Walmart will turn its attention on India, where it already operates a successful wholesale, or cash-and- carry, business. Its wholly-owned subsidiary Wal-Mart India Pvt Ltd runs 21 cash and carry stores under the Best Price brand across nine states in the country.
In India, Amazon is competing with home-grown, and also, the country's largest, e-commerce company Flipkart and its rival Snapdeal even as other global companies such as China's Alibaba and Japan's Rakuten are readying to stake a claim in the market.
Incidentally, Alibaba is already invested in Snapdeal, along with large global investors such as Japan's Softbank, and hence, any move to snap that company is likely to be fought tooth and nail by its investors.
Flipkart, however, presents an interesting opportunity. Heavily funded by global investors such as Tiger Global, Naspers, Iconiq and Accel Partners, Flipkart, according to media reports, has been struggling to raise fresh funds to keep its growth momentum going. There have been media reports in the past to suggest that Flipkart has held talks with Amazon for a buyout but the latter walked away from the table owing to high valuation sought by the company.
E-commerce in the US, India & China
E-commerce transactions in the US totalled over $340 billion in 2015, a 14.6% increase over 2014's sales of $298.3 billion, according to non-adjusted estimates released by the U.S. Department of Commerce. At $23 billion, India's online retail transactions were way too small in comparison but the fact that the market grew 67% over the previous year makes it very attractive for those wanting to set foot here.
While it's an undeniable that Walmart is a global giant that employs around 2.3 million people in its 11,527 stores across 28 countries and churned $482 billion in total revenue last year, the world's largest retailer is definitely worried about its declining online sales in the US while Amazon continues to grow impressively, both in the US and India. Also, Walmart's online sales were a mere $13.6 billion in 2015 against Amazon's $107 billion.
The retail giant has been looking to expand its e-commerce play both in the US and international markets.
Outside of the US, the world's largest e-commerce market China has proven to be a tough nut to crack. In the country, Walmart, instead of selling through its official platform wal-mart.cn, had been selling through its local e-commerce subsidiary Yihaodian. But in June 2016 , it sold Yihaodian to China's largest e-tailer (by direct-to-consumer revenue) JD.com and in return settled for about 5% stake in JD, thus limiting its play in the country.
After China, India makes for the next most appealing destination for Walmart. And within India, it is Flipkart that presents a striking opportunity. With an established player like Flipkart under its sleeves, Walmart can afford to hit the ground running in the country. If not that, Walmart may also become a leading vendor on Flipkart's platform helping it reduce its dependence on WS Retail, the largest seller on Flipkart with close ties to the company.
Walmart's own strengths as an offline retailer alongside its access to smart technology and 'real time pricing algorithm' it now owns with the acquisition of Jet.com, can boost its India play. The technology helps in reducing prices of products in real time based on various factors including the number of products and the distribution centres. This has the potential to revolutionize the prevailing customer experience and pricing patterns in the Indian e-commerce industry where deep discounting has become the bane for most companies.
Moreover, the timing seems right for enterprises with large pockets to bid for Flipkart whose valuation took a beating in recent times before seeing two slight mark-ups. Flipkart suffered seven successive markdowns with some of its investors placing the e-commerce company's valuation at less than $10 billion in comparison to $15.2 billion valuation it commanded till September last year, which was based on in its last funding round in mid-2015.
"It makes sense for a company like Walmart to enter India through an acquisition," says Manish Kumar, CEO of GREX and a senior partner at early-stage venture capital firm IncuCapital Advisors.
Kumar adds that India, like China, is an atypical country and has very different environment including, but not limited to, customer sensitivity and values as well as regulatory environment. Then, the recent examples, for instance that of cab aggregator Uber signing off from China, have lessons in them for companies wanting to do business in China. Kumar argues that instead of starting out afresh in India, learning the rules of the game and then, scale up like Amazon, it makes sense for a latecomer like Walmart to simply buy an up and running enterprise. The move will be win-win for both Walmart as well as the Indian market. "A successful acquisition of at least one of these e-commerce giants will bring happy collateral cheer to the startup investments in India as the negativity around them recedes," says Kumar.
Flipkart & Indian market
Flipkart stands strong today in India but Amazon is close at its heels. Citing comScore data a few months ago, the Indian arm of the US-based e-tailer had claimed to have overtaken Flipkart as the most visited e-commerce site in India. Earlier, citing data from an unnamed logistics company that services online retailers, The Economic Times had reported that the market share of Flipkart and Snapdeal fell to 37% and 15% from 43% and 19%, respectively while Amazon's market share grew between 21% and 24% from 14% in 2015.
Not everybody, however, is convinced that buying an Indian e-commerce company will give Walmart a head-start into the extremely competitive market. Citing Indian laws on foreign direct investment in e-commerce in India, some observers argue that Walmart wouldn't get into marketplace model as it will be a significant deviation from its own business strategy so far. Instead, the company might want to wait until the government decides to open FDI in direct selling to customers. "Wal-Mart is a retail player where it owns its inventory, has multiple brands including its own private labels and other brands. This model doesn't work on marketplaces," says Arvind Singhal, chairman of Technopak Advisors, a retail consultancy.
"We can't draw parallels to its (Walmart's) investment in Jet.com to an Indian scenario because Jet is a retail business, not a marketplace. If FDI opens up for multi-brand e-commerce players in the B2C space, we can expect Walmart opening up a Walmart.com (or Walmart.in) in India and choose its own source for shipping to customers like it does in the US," Singhal adds.
A section of observers argues that instead of merely following the prevalent business model in the Indian e-commerce market, Walmart should disrupt the game and start afresh.
"In an oligopolistic market (it is similar to monopoly, except that rather than one firm, two or more firms dominate), it doesn't make much sense for a third party company to enter with similar product or business strategy... everyone cuts each other on price and loses," says Anshuman Verma, founder of M1L and a former venture partner at venture capital firm Accel Partners.
Verma says Walmart should neither look at buying any of the existing e-commerce companies in India nor should it launch a similar platform. "It should look to disrupt the existing ecosystem and do something tangential such as what it did in the US (the buying of Jet.com). Jet.com does not operate the way e-commerce marketplace companies operate in India," he adds.
Speculation on some kind of a deal with Walmart aside, Flipkart continues to be in a precarious situation. From unit economics point of view, the company is still making losses. It, anyway, needs to raise capital to keep going. Amazon's steady growth and the imminent entry of other players such as Alibaba and Rakuten in the market can change the dynamics, which will make Flipkart more susceptible to vulnerabilities that a nascent yet extremely competitive market like India presents.
Like this report? Sign up for our daily newsletter to get our top reports.
---