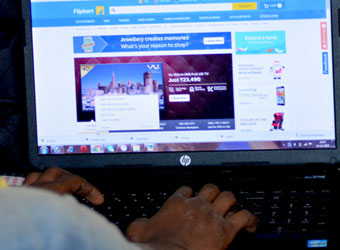 Upping the ante in its rivalry with US e-commerce giant Amazon, Indian online retailer Flipkart on Friday launched Flipkart Assured, a programme that customers can use to avail free delivery within two to four days for products that cost more than Rs 500.
The move came barely weeks after Amazon last month launched its membership programme, Amazon Prime, in India to enable users to get products delivered within a day or two.
Flipkart Assured, on the other hand, delivers products in two to four days and does not require paid membership. Moreover, products over Rs 500 will be shipped for free.
Like Amazon Prime, select products will carry a 'Flipkart Assured' badge to show these goods have undergone rigorous quality checks. Flipkart said products are assigned the badge based on an algorithm developed by its data scientists. The algorithm factors in parameters such as customer returns, ratings and seller cancellations.
Amazon is offering its Prime service for free for 60 days for customers who sign up early, following which it will charge an annual subscription fee of Rs 499, which is a discount of Rs 500 over the listed price of Rs 999 for the service.
Currently, Amazon charges Rs 49 for a fast delivery facilitated in two days and Rs 99 for deliveries sought by customers the next day. Amazon Prime in India is restricted only to delivery. Other benefits, which are available in the US market, such as music streaming, photo storage, video streaming and access to free e-books, are yet to make it to Indian shores.
This is not Flipkart's first attempt at rolling out a programme to woo customers. The Indian e-commerce firm had released Flipkart First in 2014, an annual paid subscription service that offered customers exclusive benefits and priority service.
The programme included benefits such as in-a-day guaranteed delivery for an annual fee of Rs 500 and same-day guarantee delivery, which was offered at a discounted price of Rs 70 per item. The service, however, did not take off. It could be because of the fact that both these benefits were available only select products and at certain locations.
Like this report? Sign up for our daily newsletter to get our top reports.
---