Crownit raises funding from Girish Mathrubootham, Kunal Shah and Anand Chandrasekaran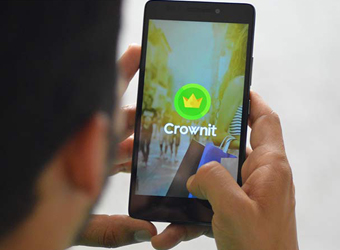 Gurgaon-based GoldVIP Technology Solutions Pvt. Ltd that operates merchant discovery and rewards platform Crownit has secured an undisclosed investment from a group of investors, it said in a statement.
Those who took part in the funding round include Freshdesk CEO Girish Mathrubootham, Freecharge's Kunal Shah and Sandeep Tandon and Snapdeal's former chief product officer Anand Chandrasekaran.
The deal comes three months after Techcircle.in reported that Crownit had raised a Series B round from existing investors Accel Partners and Helion Venture Partners as well as an unnamed Silicon Valley-based investor and a Mumbai-based investor. According to people familiar with the development, Crownit had received $4 million as part of the funding round. However, it is not clear whether the latest funding is part of that round.

"Crownit has a focus on customer satisfaction. The business model is disruptive and is solving a big problem which local merchants face in India," said Girish Mathrubootham, CEO Freshdesk.
Sameer Grover, CEO of Crownit, told Techcircle.in, "I am not commenting on Series B. All I can say is that the four entrepreneurs approached us and were interested in backing our venture," said Grover.
Earlier, in a statement, Grover said the investment was a testament to the firm's product-focused approach and that they would continue to scale without a large capital.

"We are building India's largest offline deals company using an app-only cost efficient cash-back approach. We are replicating the success of Meituan (China's largest offline deals company) in India," he said.
Crownit was founded in 2014 by Grover and Ashish Munjal. The platform offers cash-back deals at restaurants and retail shops in addition to providing technology to local businesses to run marketing programmes. Users can avail themselves of cash-back offers by shopping online, booking movie tickets and paying bills, among other things.
Grover is an alumnus of Delhi College of Engineering while Munjal is an MBA from IMT (Institute of Management Technology) Ghaziabad. Both of them had earlier worked in cloud telephony firm Knowlarity Communications.

"They have focused on the right metrics and levers to drive habit-forming behaviour. As the O2O (online to offline) market is poised to become competitive in India, the winners will be the ones who have built a simple and intuitive customer experience," said Anand Chandrasekharan.
Currently operational in Delhi NCR, Mumbai and Bangalore, Crownit claims to over 15,000 local merchants, including restaurants, salons, weekend getaways, fitness studios and retailers, among others. It also claims to have a user base of 9 lakhs. Crownit hopes to bring 20 million users and achieve an annual GMV (gross merchandise value) of $1.2 billion (Rs 8,000 crore) across 25 cities in India by 2019.
Earlier, TechCircle had reported that the company plans to expand to Pune, Hyderabad, Kolkata and Chennai. Early his year, it launched an app to streamline the process of viewing, approving or rejecting bills by merchants.

Last year, it raised $5.5 million (Rs 34 crore) in a Series A round of funding from Accel Partners and Helion Venture Partners.
Rocket Internet-backed deals and discounts portal Cuponation is the other significantly funded player in this space. It raised $11 million (around Rs 75.5 crore) in Series B round of funding from a group of investors, including existing investor Rocket Internet AG.
Like this report? Sign up for our daily newsletter to get our top reports.

---