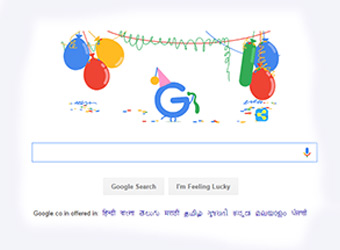 Google celebrates its 18th birthday today and is now officially an adult. The company, founded by Larry Page and Sergey Brin in 1998, traditionally marks its birthday on the Google homepage on 27 September.
However, Google is not too sure about its own birthday! Since 2006, it has celebrated its birthday on 27 September, but in 2005 it did so on 26 September.
In 2004, its sixth birthday Doodle went online on 7 September and in 2003, it was 8 September.
In fact, none of the dates have any specific relevance. The company's own history lists its incorporation date in 1998 as 4 September.
Google talked about the confusion over its birthday in 2013, admitting the company had celebrated it on four different dates. But 27 September now seems to have stuck.
So for Google.com, whose aim is "to organise the world's information and make it universally accessible and useful", this tagline is definitely not working for itself.
Even then, because Google makes our life so much simpler, here's wishing it a very happy birthday!
Like this report? Sign up for our daily newsletter to get our top reports.
---