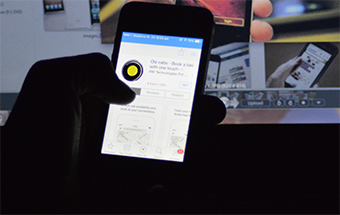 As the battle for market dominance intensifies in the taxi aggregator services space in the country, home-grown cab-hailing startup Ola, run by ANI Technologies Pvt. Ltd, has introduced a key feature named Ola Offline enabling its users to book cabs without Internet through a text message, the company said in a press statement.
When attempting to book a cab in the absence of an Internet connection or low connectivity, the Ola app will offer users two options—retry or book a cab through an SMS. Upon choosing to SMS option, users will get redirected to their default messaging app where they will see a pre-entered text message requesting Ola to book a cab. On sending the text message, users will get an SMS with the particulars of the nearest available cabs across categories. Once they select their preferred cab category, they will receive driver and cab details by SMS. The driver on the other hand will also receive customer contact details and the GPS triangulated location of the user.
Ride details, GPS tracking, SOS button, and other features associated with the ride will be available for the user on the Ola app once internet connectivity resumes, Ola said.
An innovative, but simple feature like SMS booking is likely to see tremendous traction among the ever-increasing smartphone-cab-hailing users in India who are often affected by spotty internet connectivity. With prepaid mobile services being the most popular choice in India, users stand the risk of running out of data anytime and an SMS booking facility would come in very handy here.
Ola said the Offline feature was piloted in several smaller markets like Indore and Nagpur since June this year, and claims significant acceptance among the consumers in these cities. Now available in four metros, the company is planning to roll out the feature across all the 102 cities that Ola operates in over the coming weeks.
"We understand that while an Ola might be available around you, a working Internet connection might not always be. Ola Offline will now plug this gap," said Ankit Bhati, CTO & co-founder of Ola.
Ola and Uber have been engaged in a fierce price war for a long time amidst an intensifying battle for dominance in the rapidly growing sector. In the last such instance, Ola had slashed prices of Ola Share, its ride-sharing service, last month. In February, Ola slashed rates in various cities in India—it then reduced Ola Auto fare in Indore and unveiled lower fare for Ola Share in Mumbai and Pune. In June, San Francisco-based Uber had slashed tariff of its low-cost offering UberGO in Delhi-NCR region.
In June, Uber India CEO Amit Jain had claimed that the company is as big as Ola with a 50% market share (in terms of trips completed by the two companies). Jain's claim resonates a similar claim by Eric Alexander, president of business in Asia for Uber, who in mid-March said Uber would overtake Ola in 30 days. The comments come after Japanese telecom and internet conglomerate SoftBank claimed, in a regulatory filing in August last year, that its portfolio company Ola enjoyed a commanding 85% share in India's cab-hailing market.
Like this report? Sign up for our daily newsletter to get our top reports.
---