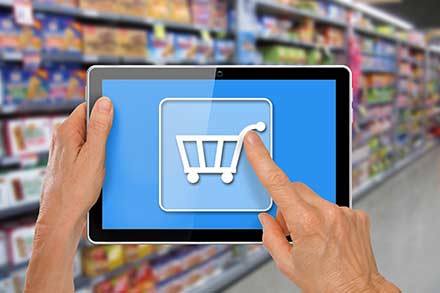 Two former executives at property portal Housing.com are starting an online grocery delivery venture, a segment that was investors' favourite until last year but where many startups have shut shop after struggling to find profitable business models.
Former Housing.com chief operating officer Rishabh Gupta has co-founded 'The Box'—a subscription-based groceries startup—along with Vaibhav Chhimpa, a former product manager at the real estate portal. Chhimpa will oversee product development and marketing while Gupta will handle operations, human resources, administration and finance. The Box, operated by 42 Technology Pvt. Ltd, is in the testing phase and will be launched as an app-based service by the end of November, Gupta told TechCircle.
Gupta, an IIT Bombay mechanical engineering alumnus, was briefly interim chief executive of Housing.com after the exit of co-founder Rahul Yadav. He quit Housing.com after the elevation of chief business officer Jason Kothari as the CEO. He has also worked in strategy and data and category management at Flipkart between 2011 and 2013. Chhimpa is a computer science dropout from IIT Bombay.
The Box was incorporated in February and began work in April. Gupta and Chhimpa ran beta versions of their product for three months and tested it with about 200 customers.
Gupta said The Box will source products from distributors and wholesalers of brands, and do last-mile delivery. The company will have its own sorting centre where the goods will be distributed as per the orders placed. According to Gupta, most grocery startups are struggling because they source from retailers, who are at the bottom of the chain and struggle to make margins.
The online grocery segment has seen many startups shut down or curtail operations over the past six-seven months. These include companies such as GrocShop, PepperTap, LazyLad, MovinCart and Aagaar, as they felt the pinch of a slowdown in funding and couldn't find sustainable growth models in a segment plagued with wafer-thin margins, high logistics and customer acquisitions costs, and fierce competition.
However, a few startups in this segment are still growing and have raised funding as well. The biggest player in the segment is BigBasket, which said in March it raised $150 million (Rs 1,000 crore) from investors including the UAE-based private equity investor Abraaj Group and International Finance Corporation. In August, Pune-based hyperlocal delivery startup Tokri secured $2.5 million in pre-Series A funding from Syska LED group.
The Box is looking to raise funds but Gupta did not disclose the amount it plans to mobilise or the potential investors.
Gupta said a bulk of the planned investment will go toward developing the design of the packaging and on logistics. Initially, the firm will only offer its services in Mumbai and then slowly expand to other areas. "This is a new model, so we want to understand what the customer wants. We will select a few geographies and focus our efforts in these places only," he said.
Gupta is the latest among former Housing.com top executives and founders to start his own venture. In April, three Housing founders Abhishek Anand, Ravish Naresh and Sanat Ghosh left the firm to start their own venture. Another co-founder Advitiya Sharma left the company to launch micro school network Genius.
In June, former Housing CFO Ritesh Jain floated an online lending startup with two others.
Rahul Yadav, the ousted co-founder and CEO of Housing.com, set up his second venture called Intelligent Interfaces after receiving investments from cricketer Yuvraj Singh and Flipkart founders Sachin Bansal and Binny Bansal. The venture, however, didn't succeed.
SoftBank-backed Housing.com, one of India's rare college startups so to say, was founded by a dozen IIT Bombay students. It attracted huge venture investment and expanded quickly under Yadav, only to witness a sharp downturn punctuated by internal squabbles, massive retrenchment and downsizing. Housing has been in the news in recent months as various companies including Snapdeal, Quikr and PropTiger are said to have considered buying the company. News Corp, which holds a significant stake in PropTiger, also owns the parent of this news website.
---