Online travel portals MakeMyTrip and ibibo to merge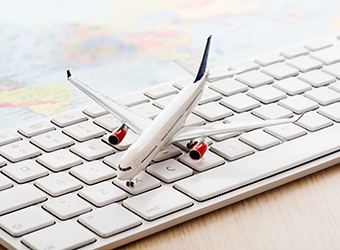 In the biggest consolidation move in the online travel agency (OTA) space in India, NASDAQ-listed MakeMyTrip Ltd has agreed to buy ibibo Group, which is co-owned by South African technology group Naspers Ltd and Chinese investment firm Tencent, in a stock deal.
Naspers and Tencent, which own 91% and 9% respectively in ibibo Group, shall sell the firm to MakeMyTrip in exchange for 40% stake in the combined company, the company said in a statement.

Naspers, which also owns around a sixth of India's biggest internet firm, Flipkart, is expected to own around 36% in MakeMyTrip, making it the single largest shareholder of the country's top OTA. Naspers had also struck the last big consolidation move in the OTA business when it acquired the country's top bus ticketing venture redBus, three years ago.
The latest deal will give MakeMyTrip better access to fast growing travel segments such as hotel booking and bus ticketing through ibibo Group's brands goibibo and redBus. MakeMyTrip, which also offers booking of domestic and outbound hotels besides buses, has a much stronger position in the air ticketing business.
"The combination will bring together a bouquet of leading consumer travel brands, including MakeMyTrip, goibibo, redBus, Ryde and Rightstay, which together processed 34.1 million transactions during FY2016," MakeMyTrip, which went public on NASDAQ in 2010, said.

Following the closing of the transaction, MakeMyTrip founder Deep Kalra will remain group chief executive and executive chairman and co-founder Rajesh Magow will continue to remain chief executive (India) of MakeMyTrip. Founder and chief executive of ibibo Group, Ashish Kashyap, will join MakeMyTrip's executive team as a co-founder and president.
"We expect this deal to create an even more scalable business with the expertise to transform the booking experience for Indian travellers," said Deep Kalra, chairman and group chief executive of MakeMyTrip.
MakeMyTrip is already the largest OTA in the country and the merger will strengthen its position while toning down the cut throat competition in the business. ibibo was especially hitting MakeMyTrip hard with pricing in the hotels category. The other competitors in this space include Yatra, Cleartrip and Via.com, among others.

The hotels business that has higher margins has seen entry of several new competitors with branded aggregation of properties as a business model. Some of these including Oyo Rooms, are highly funded ventures. The deal will allow MakeMyTrip pump up competition for them and will also allow the combined firm take on Yatra, which is in the process of getting listed in NASDAQ, with a bigger force.
Earlier this year, MakeMyTrip had entered into an agreement with fellow NASDAQ-listed firm Ctrip.com International Ltd, under which the Chinese travel services firm had agreed to invest $180 million (Rs 1,200 crore) through convertible bonds into the online travel agency.
Now the five-year convertible notes will also be converted into common equity, resulting in Ctrip having an approximately 10% stake in the combined entity.

Other significant shareholders of MakeMyTrip include SAIF Partners, T Rowe Price, Tiger Global and company founder and CEO Deep Kalra.
The transaction is expected to close by the end of December 2016 and is subject to approval by MakeMyTrip shareholders and regulatory approvals.
Morgan Stanley is acting as exclusive financial advisor to MakeMyTrip and has also provided a fairness opinion to its board. Latham and Watkins, S&R Associates and Appleby are acting as legal advisors to MakeMyTrip. Goldman Sachs is acting as exclusive financial advisor to ibibo and Naspers, while Cravath, Swaine & Moore, Trilegal and BLC Roberts are acting as legal advisors.

Shares of MakeMyTrip were quoting at $30.40 each, up 49.51%, in early trades on NASDAQ on Tuesday. At this price MakeMyTrip is valued at around $1.2 billion.
---