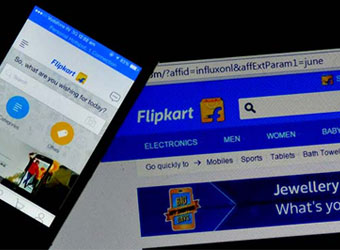 A day after its chief financial officer quit, India's biggest e-commerce player Flipkart has made a few changes in its management structure in the interim.
On Tuesday, Flipkart's chief financial officer Sanjay Baweja had resigned after a two year stint with the Bengaluru-based e-tailer to take up a "new opportunity". Baweja had joined the firm, which is battling an aggressive Amazon Inc., in November 2014 leaving the post of CFO at Tata Communications.
As a part of the interim organizational change, commercial, taxation, accounting and treasury functions will be consolidated under Rajnish Baweja, the group finance controller of Flipkart, a spokesperson said in response to an emailed query. Flipkart has initiated the search for its next CFO, he said.
The Times of India was first to report the development on Wednesday.
Rajnish Baweja had joined Flipkart, founded by Sachin Bansal and Binny Bansal (not related), in July 2014.
Business finance will report to Nitin Seth, who is currently the chief administrative officer, as part of the "strategy to execution" function. Corporate affairs and campus functions will also report to Seth, said the spokesperson. Seth had joined Flipkart in February this year.
The resignation of Flipkart's CFO and the interim management structure changes came at a time when Flipkart is reportedly trying to raise investment from the world's largest retailer Wal-Mart.
Management structure changes are not something new at Flipkart. In August too, Flipkart had changed its structure at the top, when it brought back the firm's key investor Tiger Global's senior executive Kalyan Krishnamurthy to head two major business units. Krishnamurthy used to be interim CFO at Flipkart before Sanjay Baweja took charge.
In order to manage it diverse businesses that include e-commerce, mobile payments, logistics and two fashion portals, Flipkart had restructured its management team with Binny Bansal spearheading various functions as the group CEO.
A leadership team had been constituted at the country's largest e-commerce company to lead the aforesaid divisions of the so called "Flipkart Group".
Under the arrangement, Kalyan Krishnamurthy and Saikiran Krishnamurthy run the group's commerce business. Kalyan has been leading the main marketplace, retail and advertising business, and Saikiran has been looking after the logistics business as the head of Ekart that manages the supply side of the marketplace.
As a part of that overhaul, chief people officer Nitin Seth was redesignated as chief administrative office, and advertising head Ravi Garikipati became head of engineering.
Besides Baweja, Flipkart has seen multiple top level exits this year. Ankit Nagori, head of its commerce platform; Myntra founder Mukesh Bansal and chief products officer Punit Soni quit in quick succession within three months of Binny Bansal taking over as the CEO.
---