Good news for startups: 36 new funds with $1.65 bn in pocket to begin shopping soon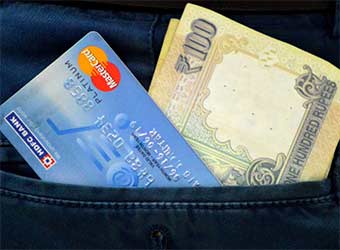 The investment tide that ebbed in 2016 is likely to turn in 2017. As investors turned cautious this year refusing to part with their cash, and in turn, leaving a crunch in the market that saw startups as well as small and medium enterprises gasping for funds, there are indications that a new dawn is just around the corner.
At least 36 new investment funds have been launched in the past 10 months by existing as well as new set of investors, thus, indicating that investors' faith in India growth story is intact. More than 38% of these funds have been raised already and their managers have already begun scouting for good investment opportunities.
Research by VCCEdge, the data and analytics arm of News Corp VCCircle shows that these funds are likely to garner over $3.6 billion over the next few months. Of the 36 funds identified by VCCircle, 14 have already raised $1.65 billion.

Amongst the new investment firms, the largest funds launched this year include Reliance Jio Digital India Startup Fund with a corpus target of $745 million, followed by Maitreyi Digital India Fund with the fund size of $222 million.
Among the established funds, Sequoia Capital leads the pack with a fund-raise of $920 million followed by Matrix India with a fund size of $110 million.
Sequoia, which emerged as one of the leading investors in 2015, was missing in action largely this year. The next year, however, is likely to be different for the firm which is ready with an investment plan and execution strategy. "Any investment firm is only as good as its last investment. Whether you are an investor or a founder, nothing beats staying hungry and humble," Sequoia Capital's managing director Mohit Bhatnagar told Techcircle in an interview recently. The Indian arm of the global venture capital firm intends to primarily make early stage, seed and series A investments going forward even as it remains open to writing "large cheques" for companies needing growth capital. Earlier this week, Sequoia Capital Partners led an investment of $55 million in Chennai-based SaaS startup Freshdesk, with participation from existing investor Accel Partners.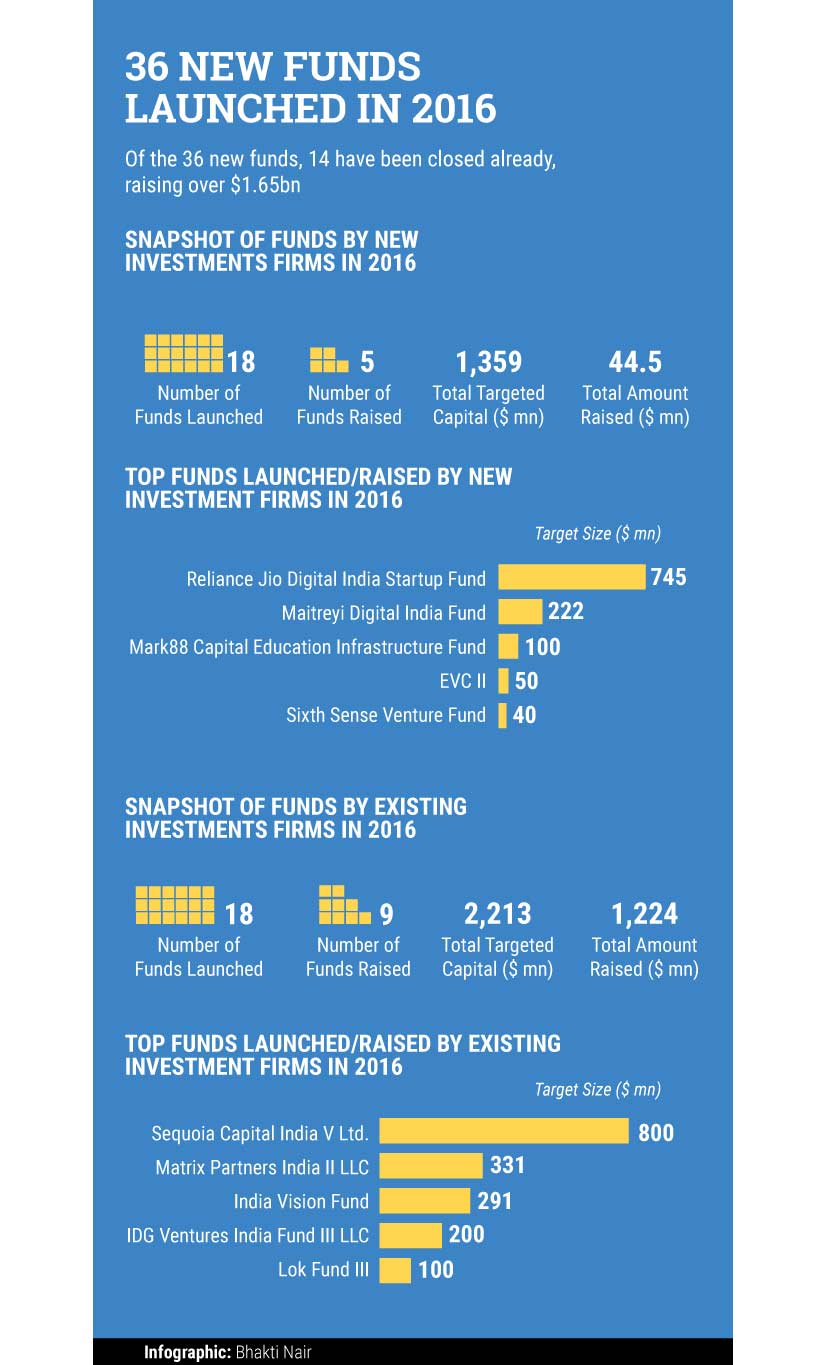 The others that have already raised funds include Lok Advisory Services Pvt. Ltd and Sixth Sense Ventures LLP whereas IDG Ventures India Fund III LLC and India Vision Fund are in the process of securing commitments.
"2017 will be a better year," said Anil Joshi, ‎managing partner at Unicorn India Ventures, a new early stage fund. "There are a lot of new funds that have come up, giving entrepreneurs more avenues." Unicorn India has raised a Rs100 crore fund this year. Unicorn's first close was in December.

Managers of many the funds named above said technology, healthcare and financial services will be their areas of interest even as they are open to other interesting opportunities, too.
"There is a very clear appetite to invest in India," said Harish HV, ‎partner at accounting consultancy Grant Thornton. Pointing out that new fund-raises have been possible because of the continued interest of Limited Partners (LPs, or investors in funds) in investment opportunities in India, Harish said: "LPs are looking for credible fund managers with a track record of exits and ability to have teams that can stay together for the long term."
Dreaded Funding Crunch

The much talked about funding crunch of 2016 was not account of unavailability of funds. In fact, at the beginning of the year, investors were sitting on an investible cash pile of $4 billion. Funding, however, slowed this year as investors turned cautious because of sky-rocketing valuations and hay-wire unit economics of most enterprises.
In the first nine months of 2016, private equity and venture capital investments, in terms of value and volume both, fell drastically in comparison with the same period of 2015. While deal volume fell by 40% to 348 in the January to September period compared to the same period a year ago, deals value slid by a whopping 60% to $5.6 billion.
With the new funds raised and commitments secured, more than $5.65 billion is now available with fund managers to deploy. As valuations settle down and focus shifts to unit economics and a profit-oriented business model, investors are hopeful that there will be plenty of sensible investment opportunities next year.

"The last 18 months was a period of lull," said Joshi of Unicorn India Ventures, adding that "it's not that late stage PE funds don't have money. They have been waiting for things to settle particularly in the segments of hyper-local and ecommerce. People will start reinvesting now."
In the reckoning
As expected, experienced investors have been more successful in closing funds so far. Of the 18 funds launched by exiting firms, nine have been raised already. Of the 18 funds launched by new teams, only five have been closed so far.

Along with those mentioned above, Private equity firm MCap Fund Advisors Pvt. Ltd has formally launched the process to raise its second India-focused fund, targeting to raise nearly five times what it did in its maiden offering five years ago. The PE firm floated by former Baring Private Equity India partner Subbu Subramaniam, is looking to raise between $250 million and $300 million.
Recently, seed-stage venture capital firm Blume Ventures marked the final close of its second fund at $60 million.
Rabo Equity Advisors Pvt Ltd, a private equity firm focused on Indian food and agriculture sector, has raised its second fund, nearly three years after hitting the road to tap on to global investors.
Early stage investor Ventureast Fund Advisors India Ltd has achieved the first close of its sixth fund—Ventureast Procative Fund II (VPF2). The firm has raised $83 million in the first round of its technology-focused fund that aims to raise $150 million in total.
---