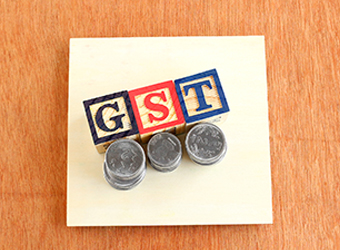 The biggest tax reform in independent India is on way to implementation with a four-slab structure proposed by the government. The Goods and Services Tax or GST is essentially a single tax on the supply of goods and services, all the way from manufacturers to consumers. The final consumer will be charged GST by the last dealer in the supply chain. GST is a consumption tax, and will be applicable at the stage where a product is consumed rather than at various stages of production.
How will GST impact startups? 
The main criterion for establishing ease of doing business in a country is the number of steps involved in setting up a business. Startups often end up spending most of their time in registering their company; getting service tax registrations, VAT registration in all states they will function out of among the various other procedures.
VAT registration from the sales tax department is mandatory to start a new business. Any business that operates in multiple states needs to comply with different procedures and fees structures. With GST being implemented, startups will need a single license. A centralised registration will also make the expansion process simpler.
GST will be a game-changer for startups. Entrepreneurs will need to get just one license before starting operations.
Higher exemptions to new businesses: 
Going by the existing structure in India, any company with revenue of over Rs 5 lakh needs to pay VAT. Once GST is implemented, the exemption will be pushed up to Rs 10 lakh. Any business that has a turnover between Rs 10 to 50 lakh will have lower tax slabs. More tax savings would simply mean more expansion.
"Big startups will not benefit from this exemption directly. …But smaller startups will definitely gain from GST. The bigger companies can in turn work with the smaller companies to benefit indirectly," says Harish H V, Partner at Grant Thornton, a US-based accounting network.
India's complicated tax structure is not unheard of. Startups are often seen grappling with elaborate procedures and paper work. With GST, all the taxes will be integrated, easing out the process of taxation. With a better and simpler taxation system in place, India might just be able to retain its 'startup hub' tag as per NASSCOM's Product Council report published in October.
"Once GST is in place, the economy will grow, which means more capital and more growth. Startups will need to operate efficiently to benefit from GST. Of course a simpler taxation system helps them grow better," said Harish.
Reduction in logistics cost:
Inter-state transportation of goods often takes more time than usual due to border tax and various check posts. GST will eliminate these taxes and make the process more cost-effective and faster. As per a CRISIL analysis, GST will reduce logistics costs of companies producing non-bulk goods (comprising all goods besides the primary bulk commodities transported by railways – coal, iron ore, cement, steel, food grains, fertilisers) by as much as 20%.
"Companies such as Flipkart, Amazon all are big on logistics. They will benefit a great deal. Cab aggregators like Ola and Uber will also leverage from GST," said Harish.
But all good things come to an end. With startups benefitting from GST, there are also downsides of the tax regime.
Startups in the manufacturing sector will bear the brunt. Going by the existing laws, a manufacturing business that has a turnover less than Rs 1.50 crore is exempted from paying duty. However, with the implementation of GST, the turnover limit will be pulled down to Rs 25 lakh and making it tough for many startups.
E-commerce companies will have to file quarterly and monthly returns and pay tax on sales on their portals once GST comes into force.
Despite the few drawbacks, GST remains to be the friendliest tax reform in India. With GST, will come transparency, efficiency and more growth.
---