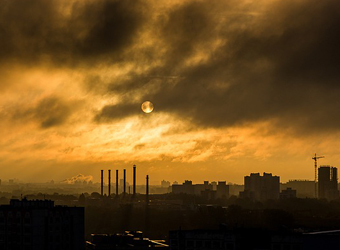 Delhi residents woke up to a foggy morning, with many complaining about irritation in eyes and a cough, because of the air quality that plunged to the record low just a day after Diwali. The reason was a drop in wind speed, coupled with increase in humidity and low temperature, which worsened the situation and took the Air Quality Index (AQI) to the "severe" level, said air monitoring agencies.
Air pollution in India killed at least 6,00,000 people in 2012, said a World Health Organisation study in September. In all likeliness the number is going to increase by manifolds as the pollution level, mostly in North India, hit dangerous levels in October and November. While burning of paddy crops in the nearby states, Punjab and Haryana created a thick blanket of smog, Diwali's extravagant celebrations made matters worse.
Breathing clean air is almost impossible under such circumstances. But there are a few startups that help in combating pollution by various methods. Techcircle lists various ways like indoor plantation, use of organic masks, installing air purifiers, choosing a long-term solution by going for solar powered electricals, all with the help of startups.
Nurserylive: This Pune-based startup, founded by former IT professional couple Nandu and Nidhi Singh in 2013, sells air-filtering plants online. Among the wide variety of nursery plants and seeds it offers, to provide respite from the poisonous air, it has special categories such as "Best air-filtering houseplants, according to NASA," "Plants for Oxygen at night," "Top 10 Air Purifier," etc. Nurserylive sources plants from local nurseries in Pune and delivers across the country. Plants are usually delicate and are sensitive to weather conditions so there are chances of damage in transit, the company claims to replace them free of cost in such a case. Among garden accessories, it also sells planters, pots and pebbles. One can check for options for corporate gifting also. Not only do they sell plants but also let users to share their gardening experiences and learn from each other.
OnMask: This Hyderabad-based startup, run by OnMask Life Sciences Pvt. Ltd, produces anti-pollution masks. It was founded by Satya Krishna Ganni and Dr Arun Kumar Itta in 2012. The startup claims that the organic cotton masks provide protection against air-pollutants, allergens, irritants, dust particles, exhaust fumes, etc. The masks are washable, reusable and can be used for 3-4 months. These are available online on Amazon India, Snapdeal, ebay.in, shopclues.co and at an offline store in Hyderabad. It has masks of different sizes for people in different age groups.
Smart Air Filters: The Delhi-based startup, founded in 2015 by Thomas Talhelm, offers indoor air-purifiers, it helps purify air from the major pollutants. Apart from their DIY purifiers, they have introduced a new range called Ladakh series of air purifiers, which the company claims, provides improved aesthetics and gives better performance. They are also selling HEPA filters and carbon filters. Kurin Systems is another startup in the similar space. They have air purifiers with three-stage filtration techniques for cars, offices and living areas.
MYSUN: For a long-term solution, sustainable use of resources and making use of renewable source of energy, one can get on board with solar marketplace MYSUN. It was founded by Gagan Vermani, Divyanshu Sachdev, and Gyan Prakash Tiwari in September 2015. MYSUN guides its customers in analysing and evaluating their solarisation potential and related savings, with the use of MYSUN. It provides an end-to-end solution to all the solar needs. The platform assists customers right from buying and setting up the system to maintaining it.
---