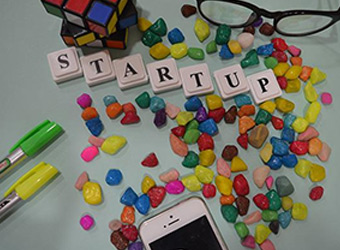 You become a gangster, build your network, fight other gangsters, engage in shoot-outs, do contract-killings, carry out sinister missions, rob and establish your criminal empire. This is how online social game Mafia Wars was played. Mafia Wars was developed by Silicon Valley-based Zynga, the world's largest social game developer.
The adrenaline rush of Mafia Wars is what characterised the work inside dozens of Zynga studios across the world. This has helped Zynga churn out many globally popular games. In the process, it happened to churn out many startups.
Around 15-20 startups sprouted from the India unit of Zynga from among 500 game creators and marketers in a span of around four years. Spread across genres such as ecommerce, gaming, enterprise IT and app development, many of these startups went on to raise multi-million dollars from leading venture capital firms while a couple of them got acquired by overseas and Indian companies.
The trend of tech and internet companies – from Infosys to Flipkart - with large engineering forces spawning dozens of startups is commonplace. From InMobi to Housing, several startups have been instrumental in bringing more startups to life. At the last count, some 50 startups are estimated to have sprung from Flipkart alone.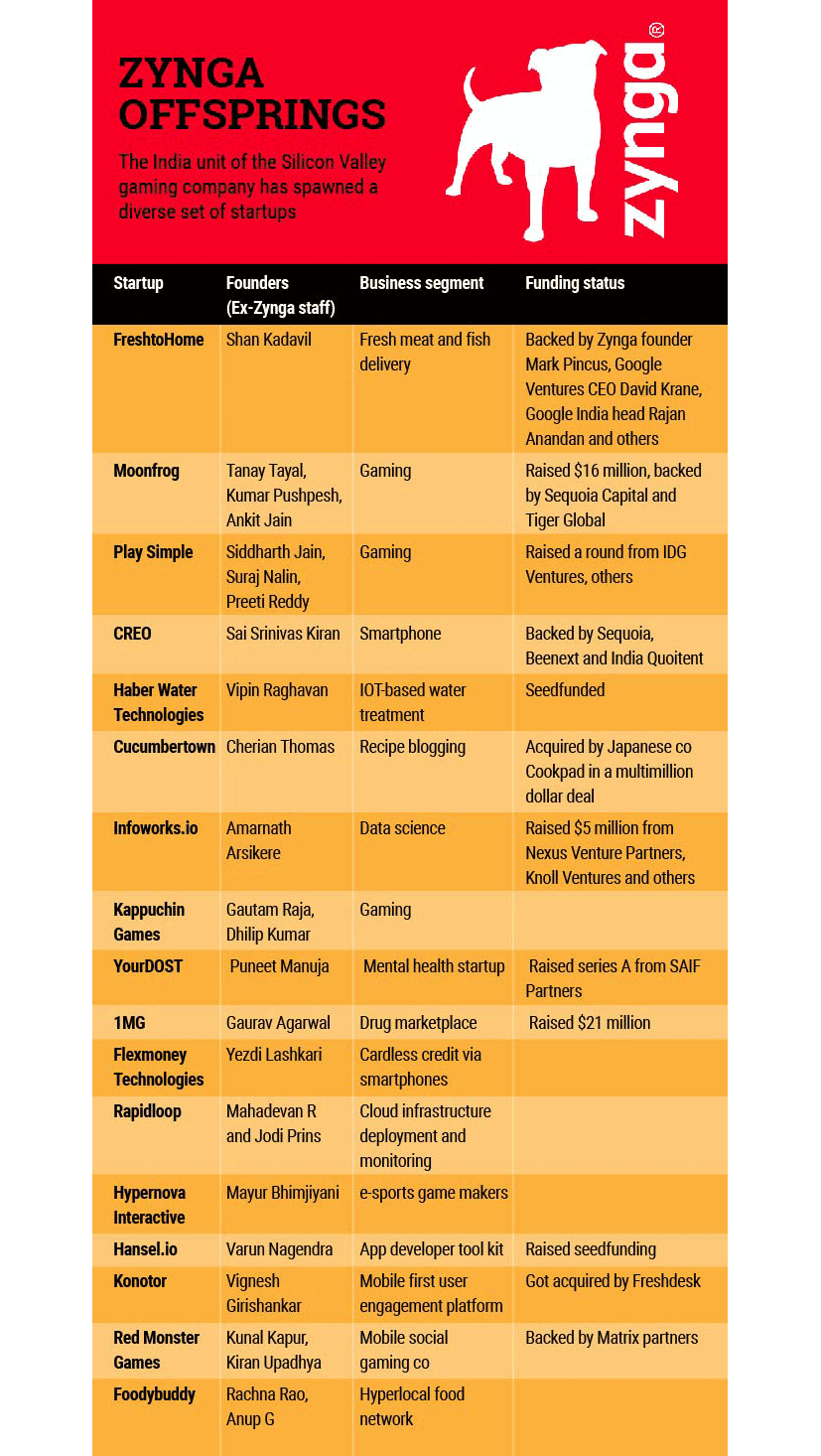 In Zynga's case, a diverse set of startups emerged from among a much smaller group of people in a fairly short period of time. From drug marketplace 1mg that raised $22 million to Tiger Global and Sequoia Capital-backed gaming company Moonfrog, and from Freshdesk-acquired Konotor to Cucumbertown, the food blog that got bought over by Japanese Cookpad, the Zynga offsprings carved a niche for themselves in India's startup landscape.
Shan Kadavil, who headed Zynga India for five years since its entry in India in 2010, credits the trend to the fast-paced, result-oriented, creative work culture that the gaming company provided to its employees.
To be sure, Zynga was an inspiring story in its hey days. In the fourth year since its launch, Zynga clocked $1 billion in revenues and went public at a valuation of $7 billion in 2011. That made its public listing the largest since Google's debut in 2004.
Zynga India, incidentally, was the largest centre outside San Francisco, generating three digit million dollars in revenues every year.
The startup embodied much of its founder Mark Pincus' what-ever-it-takes attitude and rose fast. "Zynga reached $1 billion revenues in four years since operation when others get there in 10 plus years. To get to that, Pincus decentralised the organisation," said Kadavil. "It was a 'startups-within-startup' approach," he explained. Each team, or a 'studio' in Zynga's parlance, had its own CEO and CTO. "All of a sudden, a fresh grad from a B-school was managing a $10-20 million business," he said.
Freedom, of course, was balanced with accountability. "You are CEO of what you do. If you meet targets you get promoted," he said.
Kadavil, who quit the company last year, has launched a fresh meat and fish delivery startup Freshtohome.com which is backed by Pincus and others.
The quick decision-making of the fast-paced work place created an entrepreneurial environment, according to Tanay Tayal, who quit Zynga and launched his own India-focused mobile game company Moonfrog Labs with colleagues Kumar Pushpesh and Ankit Jain. What started off with five people three years ago is now a 100 people-strong team with solid backing from VC investors. Early this year, FarmVille co-creator Mark Skaggs joined the startup as a director and board member. "I think I learned and did more in one year than in the previous five years in my career," said Tayal describing his stint at Zynga.
PlaySimple Games, another gaming startup launched by a former Zynga employee, raised its Series A round from IDG Ventures and SAIF Partners last week.
While Kadavil credits Pincus for institutionalising the culture of entrepreneurship among Zynga employees, Siddharth Jain, co-founder of PlaySimple Games and Tayal said Kadavil put in place a team of spirited individuals with a proven entrepreneurial track record.
For instance, a senior member of Zynga India team Yezdi Lashkari was co-founder of internet software startup Firefly which was bought over by Microsoft.
Another top executive Amar Arsikere had sold his startup to a Fortune 500 company before joining Zynga. Kadavil himself co-founded the India unit of SupportSoft Inc and cloud-based remote IT support company Dbaux prior to his stint at Zynga.
Many chose to join Zynga for the startup experience, according to Vipin Raghavan, co-founder of water treatment startup Haber Water Technologies. "We worked with Zynga during its pre-IPO days. It was an experience in scaling up," said Raghavan.
At Zynga, they witnessed supersonic growth. For instance, FarmVille team grew from 200 to 2,000 as the popular game won 83 million monthly active subscribers at one point.
Incidentally, the game creators at Zynga not just saw the meteoric rise of the global gaming star but its steep fall too. A couple of bad acquisition calls, dissociation with Facebook, delayed launches and slow transition into the mobile-first market meant the company is losing its sheen. Zynga's market cap currently is just under $2.5 billion and revenues last year was $765 million.
But the tough times exposed the Zynga staff to the vagaries of startup life and even that proved to be a blessing in disguise.
Many found their future co-founders at the gaming company. "Three out of four of our founders are from Zynga," said Raghavan. Similarly, Suraj Nalin and Preeti Reddy, the other co-founders of PlaySimple Games, had worked with Jain at Zynga; so had the co-founders of Rapidloop, Kappuchin Games and FoodyBuddy.
A large chunk of workforce becoming entrepreneurs, however, led to a high churn on the human resources front. "People used to leave after two to three years to start up themselves," said Kadavil but he said the company "considered it as a healthy trend." The intense pace of work meant they contributed their maximum, he added.
---