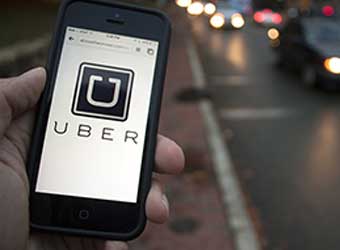 After reducing incentives for drivers nearly a month ago, cab-hailing firm Uber has started charging higher commission from select drivers as it pilots a new payment structure.
The company has increased the commission rate to 30% from 25% for a small group of drivers for some time, according to a report by Mint newspaper.
Uber follows this pilot testing models globally before applying a blanket hike, the report said, citing two people it didn't name.
The report said the commission hike depends on several factors, ranging from the hours of work and the duration of drivers' association with Uber. The increase could vary for different drivers. Ola, Uber's largest rival in India, charges a commission of 25%.
In their bid to cut costs and attain profitability in the long run, cab aggregators Uber and Ola have been raising fares in major cities and reducing driver incentives.
Email queries sent to Uber seeking details about the commission hike did not elicit any immediate response.
San Francisco-headquartered Uber Technologies Inc had earlier this year increased taxi fares for long distance rides in Delhi-NCR, Kolkata, Bhubaneswar, Guwahati, Pune and Vizag. Homegrown Ola, run by ANI Technologies Pvt. Ltd, has also increased fares in Delhi-NCR for long-distance rides.
According to a recent report by The Economic Times, both companies have reduced driver incentives as well. Ola has slashed the driver incentives by as much as 20-40% in Delhi compared with a year ago while Uber has tweaked its incentive structure to pay drivers based on their earnings rather than on the number of completed trips.
Meanwhile, in a blow to Uber and Ola, the Karnataka High Court last week upheld the state's decision to cap cab fares. The Karnataka government had notified in April that cab-hailing firms should get a permit before operating in the state, to comply with Karnataka On-demand Transportation Technology Aggregators Rule, 2016. Uber had challenged the rule and moved the court against the state government. Meanwhile, rival Ola got a licence in June to operate cabs in the state.
The court's order effectively puts an end to cab aggregators' surge pricing model. The state has stipulated a rate of Rs 19.50 per km, as the upper limit.
---