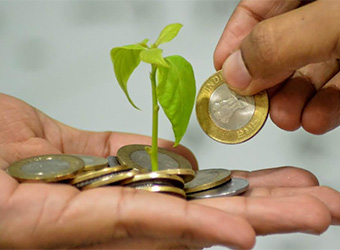 Earlier this year, Frankly.me, a video social network decided to shut shop just a few weeks after it raised its pre-Series A funding. The hard decision also involved returning most of the capital raised by it back to its investors.
Nikunj Jain, one of the co-founders of Frankly.me, says the product was ahead of its time and did not have the infrastructure and culture to thrive. Hence, infusing more capital would not have helped the startup.
"We had raised significant money and returned most of it. Both of our rounds were led primarily by Matrix Partners. They tried to present other alternative options to me, where we could work together. But then we decided to fold up ultimately," said Jain, who has now set up Darwin Labs, and is an angel investor in startups such as Jobspire, Routofy and Wigzo, among others.
Frankly.me, run by Poochi media Pvt. Ltd, is not alone in what is being seen as new standards of ethics among entrepreneurs and the startup ecosystem.
Online rental marketplace WhatsOnRent, run by Weblevered Technology Pvt. Ltd, for example, decided to shut shop, returning more than 50% of the money they had raised in its angel round of investment. Gurgaon-based GoZoomo, run by Youngmonk Technologies Pvt. Ltd, which had raised nearly $7 million, primarily from SAIF Partners, returned half of the funding amount to its investors.
In November, Bangalore-based scrap collection and recycling startup EnCashea, which raised a seed funding from FreeCharge co-founder Kunal Shah and others recently, decided to shut down its operations due to an unsustainable business model that runs on thin margins.
Priyank Jain, co-founder of EnCashea, run by EnChasea Technologies Pvt Ltd., decided to return the remaining investor money to VCs before burning the entire capital.
These entrepreneurs, who are pulling the plug on their ventures despite having enough money in the bank, belong to a niche set of founders who have reached a conclusion that their business model is not sustainable even if more capital is ploughed into it.
Investors see this as a reflection of an entrepreneur's honesty when things go South, instead of burning money on a lost cause.
"Investors would hope that the promoter can see the problem and be transparent, and not hide the issue under the garb of being acquired. It gives credibility to the promoter in case he wants to start his next venture," said Raghav Kanoria, co-founder of Calcutta Angels and Neoleap Business Ventures.
While an argument can be made that startups are not exploring enough options before shutting down, investors believe it is more prudent to let go if the founder himself is not confident of the model even after multiple pivots to test the market.
"There could be argument that entrepreneur have given up too early or didn't tried other options, but one need to appreciate it is entrepreneur and team which turn around things if entrepreneur is not convinced then it is wise thing to shut and return money back and allow everyone to move in life," said Anil Joshi, managing partner at Unicorn India Ventures, an early stage investment fund.
Moreover, even if a company decides to pivot, it is not always certain that it will work, because the new model could entail resources that the previous model did not have.
On-demand laundry service platform Flashdoor is one such example. The startup experimented with various business models before it decided to close down operations just a few months after it raised funding from former Flipkart executives Ankit Nagori and Sujeet Kumar.
"Imagine an entrepreneur is forced to pivot or do something else to keep the show running than one needs to factor several things before that, like; the team which was working on first product or service is capable of handling new changes, does the company have sufficient resources to pivot, what would happen to existing team etc, hence if team is not convinced then it is better to shut and return investor money if money is still available," said Joshi.
Gozoomo had tried four different business models over the previous two quarters—some were operation-intensive, others product-focused, before they decided to shut shop, according to media reports.
Experts say the decision to shut down needs to ideally be taken after adequate consultation and brainstorming with investors as their mandate is to offer returns on the capital invested.
"If he does not realise the margins he expects, no matter how much money he throws at the problem, it does not get solved. I believe that founders have the discussion about pivots with their investors. Investors should also be prudent decision makers at their end, and see what variables have changed to arrive at a situation like this," said Devendra Agrawal, managing director of Dexter Capital Advisors.
---