Quikr's FY16 loss widens; other income props up revenue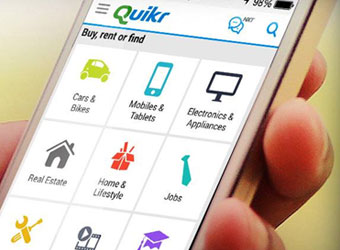 Online classifieds site Quikr India Pvt. Ltd posted a wider loss for the year through March 2016, but the pace of increase slowed sharply as it controlled its expenses after expanding at a breakneck pace in previous years.
Net loss for 2015-16 expanded to Rs 534 crore from Rs 446 crore the year before, show Quikr's filings to the Registrar of Companies.
Revenue from operations climbed 66% to Rs 41.24 crore from Rs 24.79 crore. Total revenue rose 44% to Rs 94.5 crore from Rs 52.5 crore, thanks to an almost two-fold rise in other income to Rs 53.27 crore. The company didn't specify what the other income was. However, companies typically count income from non-operational activities such as investments in bonds and mutual funds as other income.

The filings show that Quikr has invested Rs 391.43 crore in bonds, debentures and mutual funds.
Although the company remains in the red, the loss widened at a much slower rate—its net loss had more than doubled in the previous three years as it expanded rapidly to gain market share.
A major reason for the slower expansion in losses is that the company reined in expenses during 2015-16. Total expenses grew 26% to Rs 628.63 crore, after more than doubling in each of the previous three years.

The spending on paying salaries and wages tripled to Rs 96.31 crore. However, advertising promotional expenses grew only slightly, to Rs 400.41 crore from Rs 382.31 crore. The corresponding number was Rs 159 crore in 2014-15.
A Quikr spokesperson didn't respond to an email seeking comment on earnings till the time of filing this rep.
However, the tight control in expenses indicates the tough times facing Indian consumer Internet companies. Funding had been difficult to come by this year for Indian startups in general as investors turned cautious, prompting companies to focus on profitability instead of gaining market share through heavy advertising and discounting strategies.

India's biggest unicorn Flipkart, which is also one of Tiger Global's biggest bets in India, also posted huge losses last fiscal year. The net loss of Flipkart Internet Pvt. Ltd, which operates e-commerce firm Flipkart, doubled to Rs 2,306 crore in the financial year ended 31 March 2016 from Rs 1,096 crore the year before, according to filings with the Registrar of Companies. Quikr counts Tiger Global Management, Warburg Pincus, eBay, Kinnevik AB, Falcon Edge, Steadview, Matrix Partners, Omidyar and Norwest Venture Partners as its investors.
In April last year, in a Series H round led by US-based Tiger Global and Sweden-based Kinnevik, the company had raised $150 million, vaulting the Bengaluru-based company into the unicorn club.
A unicorn is a startup with at least $1 billion in valuation.

In October, Quikr's valuation rose to $1.47 billion, as per Kinnevik's quarterly report. The investor's previous quarterly report had valued Quikr at $1.3 billion.
"The company made a number of bolt-on acquisitions during the quarter that enhance its strategic positioning and product offering "these include platforms offering jobs, vehicle maintenance services and on-demand beauty services," Kinnevik had noted in its third-quarter report.
Quikr, founded by Pranay Chulet and Jiby Thomas in 2008, has so far raised $346 million from investors. The firm has been on an acquisition spree in the recent past, across verticals.

Last month, Quikr acquired Mumbai-based home rental startup Grabhouse, run by Cryptopy Technologies Pvt Ltd.
In September, it acquired vehicle service provider Stepni to strengthen QuikrCars, its auto vertical. To augment its beauty services vertical, it acquired on demand beauty and wellness services platforms ZapLuk and Salosa.
In January, it acquired real estate portal CommonFloor to expand QuikrHomes. A month later, Quikr entered the white-collar jobs segment by acquiring IDG Ventures-backed Abhiman Technologies Pvt. Ltd, which runs jobs portal Hiree.com.

---