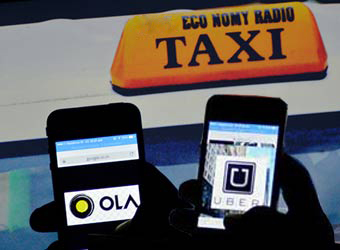 All eyes are set on the Delhi High Court as it is expected to give a verdict on new guidelines for app-based taxi aggregators in the country. The central ministry of road transport and highways is supposed to submit their recommendations to the High Court early next week.
The Times of India reported on Thursday that the new guidelines will allow companies such as Ola and Uber to "charge up to three times the minimum fare during the day and up to four times between midnight and 5 am."
The report also said that the minimum fare that the companies decide will have to be submitted to the respective state's transport department for approval.
An executive, who did not wish to be named, in Uber told Techcircle that they have not received any official communication from the ministry yet.
"The Delhi High Court is expected to come up with a verdict early next week," the person cited above said.
In September, in a bid to resolve regulatory hurdles that hinder the operations of taxi aggregators in India, the ministry of road transport and highways had called for a meeting with the representatives of companies such as Ola, Uber and a clutch of smaller startups.
Along with Ola and Uber, the largest cab-hailing operators in the country, bike-taxi startups including Baxi, Rapido, and NOW had also participated in the meeting.
The ministry had asked the startups to present a list of challenges they face as well as their wish list.
Last month, the Karnataka High Court had upheld the state's ruling on a cap on cab fares. The state had stipulated a rate of Rs 19.50 per km as the upper limit.
The Karnataka government had notified in April that cab-hailing firms should get a permit before operating in the state, to comply with Karnataka On-demand Transportation Technology Aggregators Rule, 2016.
US-based Uber Technologies Inc's India subsidiary Uber India Technologies Pvt. Ltd had challenged the rule and moved the court against the state government. Meanwhile, rival Ola, run by ANI Technologies Pvt. Ltd, got a licence in June to operate cabs in the state.
---