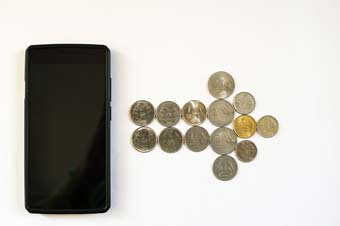 In the last two months that demonetisation has dominated dinner-table conversations, digital wallet Paytm has had a dream run, clocking unprecedented numbers.
TechCircle recently reported that Hero Corporate Services chairman Sunil Munjal was reportedly looking to buy a stake in the digital wallet firm at a staggering valuation of $5.7 billion.
Though it's been a lop-sided affair with the Vijay Shekhar Sharma-led company pocketing most of the spoils, even competitors FreeCharge and MobiKwik have seen business rise manifold since November 8. In such booming times for the industry, it would be tough to believe that there lies an existential challenge for these seemingly well-entrenched players.
There does.
Experts TechCircle spoke to believe the government's Unified Payment Interface (UPI), formally launched in August 2016 by National Payments Corporation of India (NPCI), has the flexibility and ease of use that could see it topple mobile wallets. Interestingly, the BHIM (Bharat Interface for Money) app, which is UPI-based, had crossed 3 million downloads within a week of its launch and facilitated half a million transactions.
The biggest selling point of UPI is complete interoperability--it allows funds to be sent from one account directly to another, across banks. Besides, one can send and receive money by just using a unique UPI ID, eliminating the need to fill out IFSC code, account details, etc and the need to remember credit card numbers and passwords. Last but not least, the money remains in one's bank accounts, so there's a sense of security.
UPI vs wallets
UPI, on the other hand, is interoperable--at the moment, there are 27 banks, including all the major ones, that are UPI-compliant. That way, UPI's reach is unlimited.
Second, for wallet transactions, one needs to key in the mobile number/information of the receiver or scan the QR code. In UPI, a virtual id gets created and, based on a single identifier, every type of digital payment can be accomplished.
Third, UPI allows users to pull out money from the account, and they can even ask other users for money. For example, if a UPI user goes out shopping and needs some money instantaneously, they just need to send a request to a friend, who will get a pop-up on his mobile. Once the friend clicks yes, funds are transferred immediately.
"UPI is any day a better option for users. It gives a lot more flexibility, and the belief that my money is secure. The second factor is usability. The very first thing (you have to do) with wallets is, you have to put in money, meaning you have to undergo a 2-factor authentication, so there is no coming out of it (2-factor authentication). UPI, however, gets out of it because once you install UPI on your phone, all you need to remember is your M-Pin," said Sanjay Khan Nagra, senior associate at Khaitan & Co, a law firm.
UPI is a "great connectivity layer to move money," believes Jitendra Gupta, founder of online payments company Citrus Pay. "One would need to build an experience layer on top of it to get adoption. Wallets did a phenomenal job in building the experience layer to do payment transaction for cabs and small-value transactions. The same is required to be replicated here (UPI)," he adds.
Will UPI replace mobile wallets?
In India, mobile wallets have been around for over five years now, and they definitely have the first-mover advantage over UPI. As such, Gupta feels UPI won't impact wallets in the short term since not many consumers understand the meaning of VPA, UPI or know how to create a handle: "But in the long run, there will be some cannibalisation for sure. Though I feel that both UPI and wallet will co-exist."
Another interesting point that tilts the contest a tad towards digital wallets is that UPI directly dips into one's bank account, which means, theoretically, the entire account is exposed. In the case of wallet, however, the risk exposure is limited to the money loaded. Sunil Kulkarni, joint managing director, Oxigen Services, a payment solutions provider, says there's no competition between mobile wallets and UPI. "They do not compete but complement each other in the digital payment ecosystem. Mobile wallets do not expose the bank account, which gives peace of mind in terms of security as bank accounts hold much larger sums."
Gupta agrees, but says once the security concerns around UPI are alleviated, many consumers would want to avoid the hassle of loading the wallet again and again. They will rather move to UPI as they are savvy users and know how to protect their bank account.
Nagra of Khaitan & Co believes that once UPI is adopted rapidly and a lot of people start using it, "wallets in their present form will become redundant." He further adds, "People are hesitant to use wallets because you need to load money onto your wallet. Although after demonetisation people are forced to move to wallets, given an option they would not have really moved. Once the economy remonetises, people would again move to cash and prefer cash over wallets."
Bipin Preet Singh, chief executive at one of the top three funded wallet players MobiKwik, however, emphasises that even today banks find it difficult to get their customers to transact digitally. "The growth of wallets has surpassed the growth of net banking and other digital payment offerings from banks. The reason for this is the ease of usage offered by wallets. Also, the user interface (UI) is very simple and can be operated by anyone. Therefore, we are confident that the growth of wallets will not be affected by UPI. Collectively, we shall work towards achieving a cashless economy in India."
Matter of time?
The value proposition of mobile wallets doesn't change due to UPI, claims Oxigen's Kulkarni. "It continues to work on the value proposition of a low-risk payment method and also scales up due to cost-effective transactions' cost, compared to UPI, which has dependency on partner banks with cost of transaction of core banking platform." He, however, feels that UPI will indeed "replace the internet banking payment gateway proposition of different aggregators."
Singh wants the government to enable "all wallets to be a part of UPI." This, according to him, will enable users to pay directly through their e-wallets too in the newly launched BHIM app, which will help promote digital payment literacy.
Gupta feels that adoption of UPI as a platform for transactions is still a good 12 months away. "Infrastructure is still not stable and needs to be beefed up. Customer education to use UPI is another area to invest, but that's just a matter of time."
But Nagra thinks UPI will take wallets to the cleaners. "Currently, we are talking about the present banking system and unless there is any innovation, UPI is going to topple wallets. Wallets are going to run out of business in their present form. I don't see a bright future for wallets in the face of UPI." According to him, entrepreneurs running wallet companies will have to come out with something very innovative in order to stay in the game and payments bank is one such innovation, he notes.
Given the intense competition within the space and the slew of initiatives that the government has launched, there is a lot of exuberance around mobile wallets, Talking from an investor perspective, Kunal Khattar, General Partner, advantEdge Partners, said: "BHIM may have generated traction since its launch, but in the long term, UPI powered apps will have to deliver on multiple parameters, including installed base, ease of use and transaction cost before we can declare a winner," Khattar sums up.
---