Logistics solutions startup Roambee raises $4.1 mn in Series B funding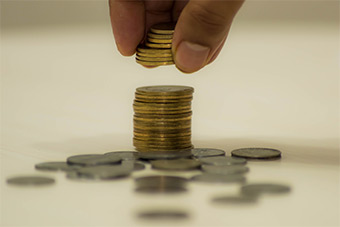 Mumbai and Silicon Valley-based Roambee Services India Pvt Ltd, which runs logistics solutions provider Roambee, has raised $4.1 million in a Series B round of funding, co-founder and chief executive Sanjay Sharma told Techcircle.
Germany's Deutsche Telekom Strategic Investments led the round with a $3.1-million infusion while "the rest of the money came from a group of angel investors in Silicon Valley," Sharma added.
Roambee is an Internet of Things (IoT) startup offering real-time, multi-sensor solutions to monitor shipments of companies. Powered by its location-aware intelligence cloud platform, its on-demand business model is built such that customers pay only for the shipments/assets they track.

The startup was co-founded by Sharma and Vidya Subramanian in mid-2013.
In May last year, Roambee raised $2.5 million in Series A funding from a group of Silicon Valley-based angel investors.
The company claims to have over 100 customers in India, including companies like Nestle, Blue Dart and GlaxoSmithKline. Following the Series B fundraise, it plans to expand services in the country.

Sharma said, "The reason for raising this fund, basically, is to scale up our manufacturing in India. The cheaper the service, the more shipments we can monitor, not only locally but also globally. Because we have seen success in India, we can go to other markets like Vietnam, Thailand, Malaysia and others."
Sharma has co-founded and led two Silicon Valley technology startups—KeyTone Technologies, which was acquired by Global Asset Tracking Ltd, and Plexus Technologies, which became an ICICI Ventures portfolio company. He has also been a part of the engineering team at NASA.
Roambee's services allow those responsible for the supply chain to stay updated on a large number of critical metrics and potential security breaches, including tampering and route deviation, in real time.

Roambee's solution includes compact, rugged wireless portable sensor devices called "Bees" and a cloud-based software platform.
The logistics space in India has seen some big-ticket investments in the recent past. In November last year, Gurgaon-based logistics services provider TrucksFirst Services Pvt. Ltd, which operates Rivigo, had secured $75 million (Rs 500 crore) from private equity firm Warburg Pincus in a Series C round for a minority stake.
In June last year, Warburg invested $133 million in e-commerce logistics startup Ecom Express, which was the biggest-ever PE funding in rupee terms in India in the logistics sector and the second-largest in dollar terms.

Other logistics startups that received funding last year include Connect India, which raised Rs 6.7 crore from Aavishkaar Venture Management. In April, Singapore's distressed assets fund management firm SSG Capital Management Group agreed to invest up to Rs 580 crore to acquire a 40% stake in Future Supply Chain Solutions Ltd.
---