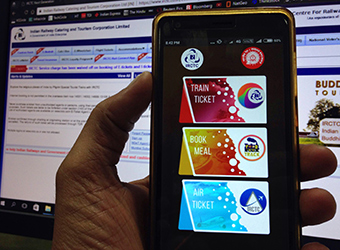 Indian Railways Catering and Tourism Corp. Ltd. (IRCTC), which handles online ticketing for the state-run transporter, has launched IRCTC Rail Connect, a new app for faster and easier rail ticket booking.
The main highlights of the app are a simple, easy-to-use interface and features that are more mobile-friendly. It also has an additional layer of security.
The previous version of the app, IRCTC Connect, is not working anymore, and accessing it will lead a user to the landing page of the new app on Google Play Store.
The new app, which is available for free only on Android as of now, has been launched on the NGet platform (next-generation e-ticketing). Launched on January 10, it already has over 1,00,000 downloads.
Setting up IRCTC Rail Connect
Downloading the app is easy as its size is only 11.65 MB. The app, like the last one, is integrated with two other apps: Food on Track and IRCTC Air. However, to access the other two, a user will need to download them. So, in all a user would need three apps, just as with the old app. The size of the two apps is 3 MB and 10.53 MB, respectively.
After downloading the app, new users will have to register while existing users can log in using their old credentials. Each time a user opens the app, he or she will have to choose from three sections: Train Ticket, Book Meal or Air Ticket.
To log in to the train ticket app, users will have to enter a PIN while registering. This feature has been introduced for additional security.
The app is in sync with the website and supports the old version of the app also, so users can not only see the history of their transactions and cancellations but also view, cancel or file TDR for e-tickets.
Users can also book tatkal tickets, ladies quota, and premium tatkal tickets using the app, apart from current reservation and boarding point change facility.
The interface is minimal and clutter-free, and it is fairly intuitive. Leaving the app, however, took multiple attempts.
The IRCTC AIR app has two verticals, IRCTC Tourism for booking tour packages and IRCTC AIR for booking air tickets. The tour package options include international packages, domestic air packages, desert circuit, tiger express and Buddhist circuit, among others. Navigating through the app is simple and hassle-free.
The payment options available are netbanking and e-wallets: IRCTC wallet, Paytm, Mobikwik and PayUMoney.
Users have to pay a one-time registration fee of Rs 50 for IRCTC's e-wallet and this wallet can only be used for booking railway tickets.
---