Exclusive: FirstCry in talks with parenting platform mycity4kids for buyout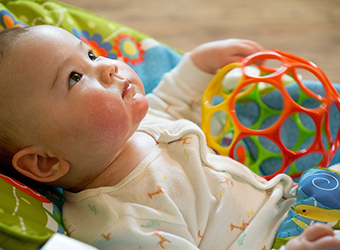 Online baby care retailer FirstCry is in talks with parenting platform mycity4kids for an acquisition, a person close to the development told Techcircle.in.
Pune-based Brainbees Solutions Pvt. Ltd, which runs FirstCry, is learnt to have completed several rounds of discussions with Delhi-based Just4kids Services Pvt. Ltd, which operates mycity4kids.
Techcircle.in couldn't ascertain the value of the deal, at which the talks are going on, but the person mentioned above said it is under $15 million (around 102 crore).

"We are in the market for a buyout in the (baby care) space. Most companies in the segment are small. We have met a few folks and have had talks," Supam Maheshwari, founder and chief executive of FirstCry, told Techcircle.in.
However, he did not divulge further details.
FirstCry is apparently in talks with various players in the segment to build greater engagements by acquiring parenting communities-based startups. The talks with mycity4kids have been going on for a long time, but FirstCry couldn't agree upon the price, the person cited above said.

An email query sent to Vishal Gupta, managing director and co-founder of mycity4kids, did not elicit a response. Another co-founder Asif Mohamed declined to comment as he ceased to be involved with the firm operationally.
In October last year, FirstCry agreed to acquire auto-to-software conglomerate Mahindra & Mahindra Ltd's baby-care business BabyOye in a cash-and-stock deal.
The deal was worth Rs 362.1 crore ($54.3 million).

Separately, FirstCry raised $34 million (Rs 226 crore) from the Mahindra Group, Switzerland-based private equity fund Adveq, Infosys co-founder Kris Gopalakrishnan and existing investors including IDG Ventures India.
FirstCry has emerged as a strong player in the segment over the years even as some competitors such as Hushbabies shut down.
FirstCry has raised $125 million in funding so far, including the latest round, from investors including IDG, Valiant Capital Partners, New Enterprise Associates, SAIF Partners, Temasek Holdings and Vertex Ventures. In January this year, Tata Group's chairman emeritus Ratan Tata invested in FirstCry.

In January last year, Mycity4kids raised $3 million (around Rs 20 crore then) in a Series A funding round from SIDBI Venture Capital Ltd and existing investor YourNest Angel Fund.
Mycity4kids had raised an undisclosed amount in angel funding from YourNest Angel Fund in 2012. However, Sunil K Goyal, managing director and fund manager at YourNest Angel Fund had "categorically denied" the development then.
YourNest holds close to 40% stake in the firm and SIDBI holds around 10%.

For the Series A round, the startup was estimated to be valued at around $5-5.5 million.
According to the filings with the Registrar of Companies, net revenues of mycity4kids have been falling in the past three years. It posted revenues of Rs 5.05 crore in FY2013-14, Rs 3.71 crore in FY2014-15 and Rs 2.11 crore in FY2015-16. Losses tripled from Rs 1.3 crore in FY2014-15 to Rs 4.1 crore in FY2015-16.
In FY2014-15, its brand-sponsored blogging segment contributed 45% to revenues and another 50% came from small businesses advertising services on the platform while ticketing of kids events accounted for the remaining.

The company was founded in 2010 by Vishal Gupta, Prashant Sinha and Asif Mohamed.
An IIM Bangalore alumnus, Gupta has previously worked with Asian Paints, Hindustan Lever and Aviva Life Insurance. A Times School of Marketing alumnus, Sinha previously worked with The Times of India, Pepsico India Holdings and Aviva Life Insurance. Mohamed is an IIT Delhi alumnus and had earlier worked for Citicorp Information Technology Industries, i-flex Solutions, Karna Softek India and Cranes Software.
BabyChakra and ZenParent are other key players in the segment.
---