Ed-tech startup Byju's buys student profile-builder Vidyartha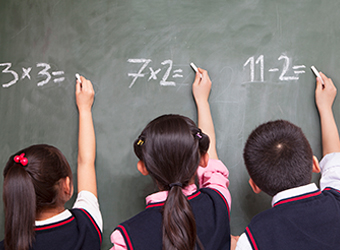 Ed-tech startup Byju's has acquired Bangalore-based learning guidance tool and student profile-builder Vidyartha for an undisclosed amount.
Vidyartha offers customised guidance platforms to schools to help students of classes 8-12 with their learning needs. It works with schools to create academic profiles of students to highlight their learning style and the path they should adopt, targets to improve scores, and recommends subject combinations after Class 10 and course combinations after Class 12.
Confirming the development, Priya Mohan, co-founder of Vidyartha, said the startup will continue to operate as a separate brand following the acquisition.

Owned and operated by SPAN Thoughtworks Private Limited, the startup was founded by Mohan and Navin Balan in 2011. Mohan worked with mid-market investment bank Veda Corporate Advisors and Balan was associated with software services and solutions firm ITTI before launching Vidyartha.
"Vidyartha has been doing some great work in the learning guidance and career planning space for school students. They have created a unique learning platform that guides students based on their learning paths. As India's largest ed-tech company, we are constantly innovating to create highly personalised learning products and Vidyartha will supplement our efforts in doing so," Byju Raveendran, founder and chief executive of Byju's, said.
The development was first reported by The Times of India, which pegged the deal value at around Rs 50 crore.

This is the first acquisition by the Byju's, which is valued at $500 million and has raised $153 million in venture capital so far. In a recent interaction with Techcircle, Raveendran had said that the company was evaluating acquiring gaming and learning apps in the US to accelerate its international expansion. The ticket size of the potential acquisition(s) could be in the range of $5-30 million, he said.
Byju's, incorporated as Think & Learn Pvt. Ltd, is India's largest K-12 learning app and offers programmes for students in classes 4 to 12 and competitive exams such as JEE, NEET, CAT, IAS, GRE and GMAT. It provides students personalised instruction, feedback and assessment using pedagogical methods, data science and machine learning.
Byju's had raised around $140 million last year alone, aiming to penetrate the domestic market deeper with its learning app, and launch and expand in other English-speaking countries to become a formidable player in the K-12 tech-enabled education business. Following the $75-million (about Rs 500 crore) fundraise from Sequoia India and Belgian investment firm Sofina in March 2016, Byju's raised $50 million (Rs 332 crore) in a round co-led by the Chan Zuckerberg Initiative (CZI) a few months later in September. It was the first investment of the philanthropic foundation of Facebook founder Mark Zuckerberg and his wife Priscilla Chan in Asia. The ed-tech firm raised another $15 million from International Finance Corporation (IFC), the World Bank's private-sector investment arm, in December 2016.

---