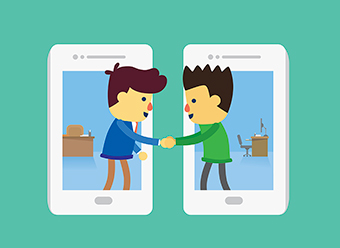 Infibeam Incorporation Ltd has entered into a pact to merge CCAvenue with itself in a deal that is expected to value the payment gateway firm at Rs 2,000 crore ($298 million).
The e-commerce company, which already owns 3.85% in Avenues India Pvt. Ltd-run CCAvenue through subsidiary NSI Infinium Global, will acquire another 7.5% stake in it by investing Rs 150 crore ($22.4 million), stock exchange filings show.
Vishwas Patel, founder and CEO, Avenues India, told Techcircle that "it will be business as usual" for the payment gateway company after the merger. "Just that the two companies will become one entity, and offer end-to-end solutions," Patel said.
The merger is subject to regulatory approvals and due diligence.
CCAvenue, one of the largest payment aggregators in India, provides a platform to over a lakh merchants to collect payments online. It also has tie-ups with close to 50 banks.
Earlier, in June 2016, Infibeam had invested Rs 60 crore (around $8.9 million) in CCAvenue.
Infibeam Incorporation is the parent of horizontal e-commerce platform Infibeam and e-commerce enabler BuildaBazaar. Infibeam already has a joint venture with Avenues India that runs the online marketplace Dhamaal.com, where merchants sell their products and promote their brands.
Founded in 2010 by former Amazon executive Vishal Mehta, Infibeam restricted itself from raising private capital, unlike its peers. Besides, it did not get too aggressive in customer acquisition to drive the B2C business and has been especially pushing the B2B e-commerce enabler platform BuildaBazaar.
On Monday, the e-commerce company reported an increase in third quarter net profit to Rs 12.8 crore from Rs 50 lakh last year. Revenue went up by 14% to Rs 102.7 crore.
---